A bride-to-be is over the moo-n after her boyfriend popped the big question with the help of his bovine buddy.
Farmer Chris Gospel, 30, from Strichen, and his cow, Curlytop, worked together to ask his girlfriend of three years to marry him.
Eilidh Fraser, a 30-year-old lab scientist, said she was surprised when the cow turned around to display the big question: Will You Marry Me?
She said: "I came home from work one day and we went round to check on the cows like we usually do.
"Chris just said, 'do you want to go check the cows?' and I was not expecting anything.
"We have this one cow, her name is Curlytop, and is an affectionate cow – she's like a big pet.
"She comes running to us and I see she has something blue on her.
"Curlytop turns and it says 'will you marry me'. It was a complete surprise.
"I was just shocked and I thought 'is this really happening?'.
"I thought it was really nice, since Curlytop is special and my favourite cow. People have said that the proposal is quite fitting."
Eilidh, who works with SAC Consulting Veterinary Services in Aberdeen, said she has a special bond with the Simmental cross-breed as she handfed her.
She said: "She's a really friendly cow and she would always be very inquisitive.
"I started off feeding her out of my hand and since then she has been very affectionate.
"She comes running whenever she sees us."
Curlytop, who is named after the tuft of curls on top of her head, was daubed with the big question using a livestock marker.
Chris called the proposal "perfect" and was excited to see Eilidh's reaction.
He said: "Curlytop is her favourite cow and the idea just came to me. I saw something similar to it in a picture online and decided to go ahead with it.
"Eilidh was very excited and filled with joy – everything about it was just perfect.
"The only person I told about my plan was the jeweller when I was buying the ring and they could not believe it.
"I later posted the picture on Facebook and everyone was over the moon and chuffed for us."
The couple have not yet set a date for their wedding – but haven't ruled out giving Curlytop another starring role.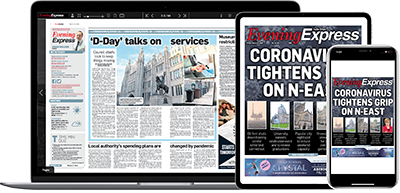 Help support quality local journalism … become a digital subscriber to the Evening Express
For as little as £5.99 a month you can access all of our content, including Premium articles.
Subscribe