A man was jailed for life today for murdering and robbing a north-east mechanic at his home.
Steven Sidebottom, 25, had denied murdering Brian McKandie, 67, at his home in Badenscoth, near Rothienorman, on March 11 2016.
However he was convicted by a jury last month.
Appearing at the High Court in Edinburgh today Sidebottom was told he must serve a minimum of 21 years.
On sentencing Sidebottom, judge Lord Uist said: "There are four aggravating features of the crime of murder of which you were convicted.
"First, the degree of violence used was severe and extreme. The evidence indicated that Mr McKandie was first attacked outside his house and then dragged into it, where he was further attacked. He sustained at least 15 separate blows to the head with a blunt object.
"He suffered a depressed, comminuted fracture of the right side of the skull with a large, ragged laceration of the overlying scalp. He had further scalp lacerations on the back of the head behind the large irregular injury and also towards the back of the left side of the head, beneath some of which there was depressed fracturing of the skull. There was another fracture at the front of the skull.
"He also had bruising to the face, shoulders and arms, consistent with blows from a weapon. In association with these injuries he suffered serious damage to his brain. This was on any view a very brutal murder.
"Secondly, this murder was committed in the course of a planned robbery which you carried out in order to obtain money.
"This was clear from text messages which you sent to a friend of yours in which you told him you needed 'two grand cash' and offered him £500 to do the driving for you in carrying out 'a job', as well as a face-to-face conversation with him in which you told him that someone in the Rothienorman area was due you money and you were going to do this person in to get your money back. After the incident you were in possession of a large amount of cash.
"Thirdly, this murder was an attack on a man at his own home, where he was entitled to feel safe. The law has always regarded it as a serious aggravation of any form of assault that it was carried out at the home of the victim.
"Fourthly, you have continued to deny your guilt since your conviction and shown no remorse.
"As you have already been told, the sentence for murder is fixed by law. I must now impose that sentence upon you. I sentence you to imprisonment for life.
"I must also fix the punishment part of you sentence, being the period which you must spend in prison in full before you can apply to the Parole Board for Scotland for release on licence."
The High Court in Aberdeen had heard how Mr McKandie's body was found in a bloodbath at his home on March 12 2016.
He had died the night before in a savage attack that started outside his house and continued in the front hall – but wasn't discovered until customers came calling the next day.
But despite the bloody scene that met him police officers who attended the property ruled his death an accident and didn't begin a full forensic examination of the scene for six days.
It wasn't until a pathologist carrying out a post-mortem saw the horrific injuries – which he said had come from 15 separate blows to the head – that a murder inquiry was launched the following Thursday.
It then took seven weeks before a massive haul of cash was discovered in the house, totalling more than £200,000.
It wasn't until seven months later, when police became suspicious of inconsistencies in statements made by Sidebottom, that he came into the frame.
Speaking after Sidebottom was convicted police had said he carried out the "cold and calculated" murder and robbery to "fund a lifestyle he couldn't afford".
Mr McKandie's family had said in a statement following the conviction that he was a "much-loved and respected member of the community".
They added that they would never understand why he died in such a "brutal senseless way".
Following today's sentencing Detective Superintendent Iain Smith said: "Sidebottom is a cruel and calculated murderer who has yet to show any remorse for his actions. He killed Brian within the pensioner's own home in the most brutal of ways and a painstaking and thorough investigation was launched by Police Scotland's Major Investigation Team to bring this complex circumstantial case to court.
"The most important thing is that Brian's family now has the justice they deserve, aswell as his friends who sat through every day of evidence in court and the vast amount of acquaintances he amassed during the decades spent working as a handyman in Rothienorman.
"I would once again like to thank Brian's family and in particular his brother Bill for their patience during the investigation and subsequent trial – they have all shown incredible dignity throughout."
The investigation into Brian McKandie's murder – which ran for almost a year – was extremely challenging and the resource-intensive investigation became one of the largest in Police Scotland's history.
Detective Superintendent Iain Smith added: "It is the painstaking attention to detail by all those involved in this investigation that leads us to this point today, however I must also thank the public who got in touch in response to the many appeals for information we issued and the customers and acquaintances of Brian who consented to providing their DNA – your information and co-operation was invaluable."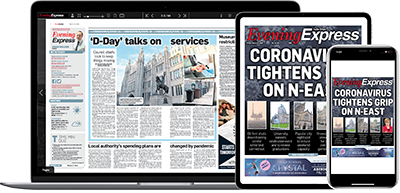 Help support quality local journalism … become a digital subscriber to the Evening Express
For as little as £5.99 a month you can access all of our content, including Premium articles.
Subscribe