The DNA of a man accused of raping two women was found on the clothing of one, but not the other, a jury has been told.
The High Court in Aberdeen was told how Police Scotland asked a forensic team to carry out tests after allegations were made against Taylor Smith, 20.
Smith is accused of raping and sexually assaulting the two women and attempting to rape a third woman, all on separate occasions, in the Banff and Buchan area between October 2017 and July 2018.
He denies the charges.
Giving evidence yesterday, forensic scientist Sarah Jones said police asked them to perform several tests in November 2017 after a woman alleged she had woken to find Smith having sex with her.
The court heard Smith's DNA was found on a onesie the woman wore after the alleged rape and the woman's DNA was found on his body and on his underwear.
Police also asked Ms Jones's team to perform several tests in July 2018 after the second alleged victim claimed Smith had forcibly removed her underwear, performed a sex act on her and then raped her.
The test did not find any trace of Smith's DNA on the woman, or any trace of her DNA on Smith.
Ms Jones said: "Both parties showering in the interim could have influenced that result.
"Just because we didn't find any DNA doesn't mean there wasn't contact, but equally, if there was no contact (between the woman and Smith), the results would explain it."
---
---
Ms Jones said a test on the woman's underwear found signs of tearing.
"They would have been rendered unwearable. The damage was recent," said Ms Jones.
Advocate depute James Keegan QC asked: "Could the underwear have been forcibly removed?"
Ms Jones replied: "That is one explanation."
Defence counsel Edith Forrest said: "Is it fair to say there are many explanations for what these test results tell us?"
Ms Jones said: "Yes."
The trial, before Judge Buchanan, continues.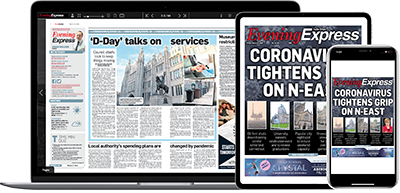 Help support quality local journalism … become a digital subscriber to the Evening Express
For as little as £5.99 a month you can access all of our content, including Premium articles.
Subscribe