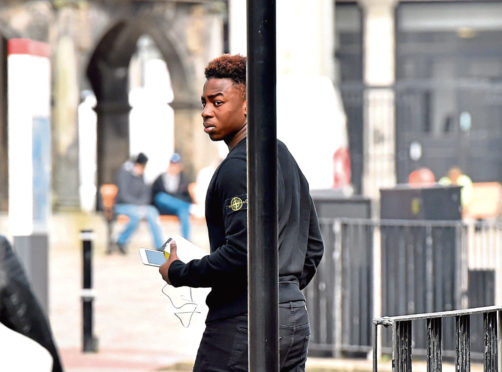 The father of a young Aberdeen FC footballer has described the moment his son told him a number of people tried to stab him, a trial has heard.
Benjamin Dangana was giving evidence in the trial of three people accused of attempting to rob his son David at knifepoint on August 9 last year on Fairlie Street in Aberdeen.
Kyle Cameron, 28, Lana McAllister, known as Smart, 30, and Shaun Stewart, sometimes known as Paton, 33, are alleged to have attacked Mr Dangana, 19, as he drove home from the shops in his white car.
On the second full day of evidence, Benjamin Dangana told the court he was at home when his son burst in "very agitated" and "upset".
He added: "He said to me 'dad, call the police. Some people smashed my window, attacked me and tried to stab me with a knife.' Those were his exact words."
Mr Dangana went on to tell fiscal depute Sally McAuley he called 999 and also began to walk to the police station nearby at Manor Park Primary School.
While en route, he described his son drawing his attention to three or four people "around a white car" on Danestone Circle before going into a block of flats.
Asked how many people went into the building, he replied: "It was the female, the guy limping definitely and one other guy."
The court previously heard from his son David who said during the incident the female asked to see his phone, looked through it and then gave it back to him and left with the two men.
Evidence was also given by Detective Constable Kimberley Patterson, who went through a police interview given by Stewart a week after the alleged incident.
She said in the interview Stewart said he had little memory but had been out drinking on August 9 and injured his knee.
DC Patterson said, when asked about the alleged incident, Stewart said: "I feel sorry for the person involved in it but I wasn't there."
Reading a transcript of the interview, Ms McAuley read the police questions and DC Patterson read Stewart's answers.
The officer said: "Who robs somebody and then gives them back their things? It just doesn't make any sense."
Ms McAuley replied: "That's why we're interviewing you, to ask whether it's mistaken identity or something like that."
DC Patterson replied: "I don't have a clue."
She added Stewart denied any involvement in an attempted robbery and said: "I just want to go on record, I wouldn't be giving them their stuff back."
Defence agent Ian Houston, representing Stewart, asked the witness if his client had been given any medication for his leg injury when he was interviewed. She replied: "I can't comment on that."
Cameron, Smart, of Danestone Circle, Aberdeen, and Stewart all pleaded not guilty to the charge against them.
Stewart denies further charges of possession of a knife and metal pole and of refusing to provide evidential DNA, fingerprints or photograph to police when required, and lodged a special defence of incrimination of another male.
The trial continues.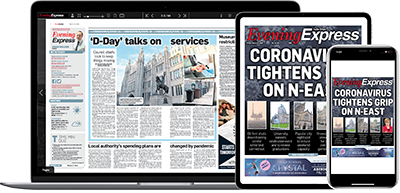 Help support quality local journalism … become a digital subscriber to the Evening Express
For as little as £5.99 a month you can access all of our content, including Premium articles.
Subscribe