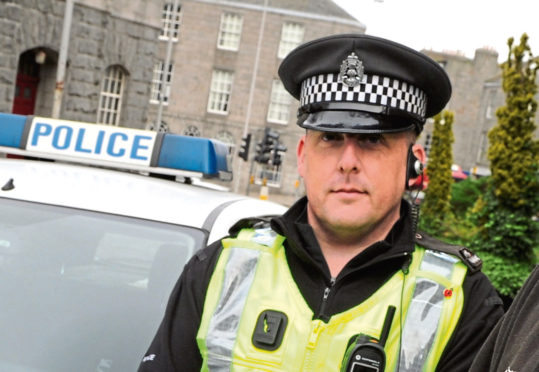 An Aberdeen police officer has been told he could go to prison after he admitted lying and falsifying evidence.
Graeme McEwan was called to deal with a car crash at Aberdeen International Airport and failed to interview several people, then lied about how he had dealt with the investigation – and was caught out.
The Evening Express reported last week that McEwan, 48, had previously admitted through his solicitor Paul Barnett an offence of neglecting and violating his duties, but appeared at Aberdeen Sheriff Court yesterday to plead guilty to the charge in person.
In court, Sheriff Gary Aitken told McEwan: "I am deferring sentence for a Criminal Justice Social Work report to be written.
"The content of that report will inform me of relevant factors when I pass sentence.
"You need to be aware that a custodial sentence is at the very least a possibility.
"The contents of the report will explore whether an alternative sentence would be something for me to consider."
The collision took place on May 18 2016 and McEwan was called to the airport to deal with it.
He failed to interview the person who reported the collision or the driver of the vehicle that was involved in the crash.
McEwan went on to falsely claim in a police report that he had asked the suspect to identify the driver at the time of the crash – then fabricated his reply.
He also falsely stated he had cautioned and charged the suspect and administered a warning.
---
---
Court documents state that, between May 18 and September 28 2016, McEwan "neglected or violated" his duties to prevent and detect crime and to make reports to prosecutors as needed to bring offenders to justice.
Specifically he neglected to take a statement from the witness who reported the collision, and neglected to interview the driver suspected to have been responsible for the collision.
And in a standard police report submitted to the procurator fiscal on September 28 2016, McEwan said he had required the suspect to identify the driver at the time, and fabricated his reply before falsely stating he cautioned and charged him.
Previously, Chief Inspector Derek Hiley said Police Scotland was awaiting the outcome of the case.
He added: "A report on the full circumstances will be made to the Deputy Chief Constable for consideration."
McEwan, whose address was given in court papers as Police Scotland, Inverurie Road, Bucksburn, is to be sentenced on April 23.
Arriving in court in a suit, McEwan borrowed a jacket and an umbrella in order to disguise himself and shield himself from our photographer when leaving court.
Outside court, the Evening Express asked McEwan if he felt ashamed of breaking the law when he was supposed to be enforcing it and he gave no reply.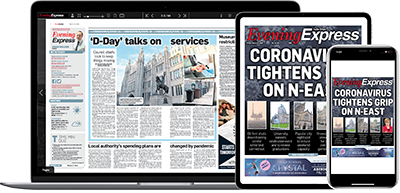 Help support quality local journalism … become a digital subscriber to the Evening Express
For as little as £5.99 a month you can access all of our content, including Premium articles.
Subscribe