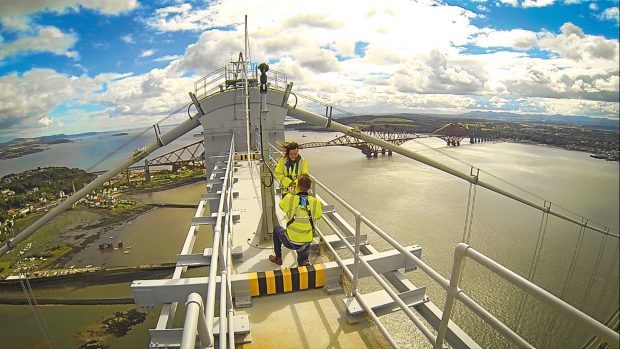 After 11 years of dating, a businessman popped the question on the anniversary of the day he and his partner met – on top of one of the Forth Road Bridge towers.
Steve Reid, 33, of Inverurie, surprised Kerry Stewart who was accustomed to her partner organising adventurous dates, but was amazed as he went down on one knee.
Their journey to the top involved taking a small lift to the bottom of a narrow steel ladder before climbing up to the walkway of the 500ft tower.
The couple then stood together taking in the Firth of Forth views before Steve presented his girlfriend with the ring.
"I kept my plans for our engagement a surprise", said Steve, the director of Aberdeen brand strategy firm Imajica.
"Kerry was completely in the dark until we were driving over the bridge and I told her we were going up it."
He had spent weeks planning the July 28 surprise – 11 years to the day since they met on a bridge over the River Don while heading home separately after a night out.
Steve said: "I started organising extreme dates on the first of Kerry's birthdays we celebrated together.
"I told her I was taking her on a random day for her birthday – tandem zorbing down a mountain – and every year since we've tried to do something different.
"So far we've been zorbing, wakeboarding, cliff jumping, canyoning, zip lining, bungee jumping and speed boating.
"She is actually quite scared of heights but after cliff jumping and bungee jumping she is a lot better."
The couple are now planning their wedding and plan to tie the knot next year on the anniversary of the day they met and got engaged.
Kerry, 31, an occupational health therapist, said: "I was absolutely over the moon, it was such a nice way to do it and it's great we can now plan for the next chapter in our lives."
A spokesman for bridge maintenance firm Amey said: "The Forth Road Bridge tower tops are out of bounds for most members of the public, but we do provide a limited number of trips each year to help raise money for local charities and good causes. We wish this couple all the best in their married life together."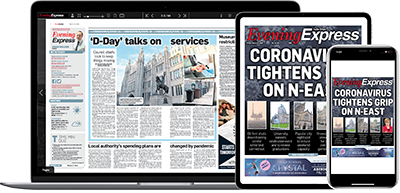 Help support quality local journalism … become a digital subscriber to the Evening Express
For as little as £5.99 a month you can access all of our content, including Premium articles.
Subscribe