A north-east business owner has told how his parents-in-law became trapped in his shop following flash floods.
Fire crews were called to Ballater after it was affected by flooding due to heavy rain.
Two appliances were sent by the fire service to the town around 12.30pm on Saturday after reports of a large amount of surface water on the streets.
David Cobban, co-owner of the Brakeley Gift Room on Bridge Street, was on holiday when the shop flooded, with his mother and father-in-law running the store.
"They were unable to leave the shop, which is at the lowest point on Bridge Street, due to the water, and only got out when the fire crews arrived.
He said: "It all just happened so quickly that no one could do anything.
"The water came up so high they couldn't open the door to put the flood barriers up.
"They were stuck in the shop for a while until the fire brigade let them out."
David said his parents-in-law got help to save as much stuff from the front of the store as they could.
He added: "The water came about a third of the way into the shop through the door.
"Cars were going down the road and the water was going in waves over the pavement into the shop. They did shut the road eventually.
"If it hadn't been for the cars it wouldn't have been as bad. This time we have been lucky, we didn't lose nearly as much stock as before.
"The fire brigade have been great."
A Scottish Fire and Rescue Service spokeswoman said: "A couple of streets had surface water, so we were liaising with the council."
The appliances, sent from Aboyne and Ballater, were used to pump some water out of the streets – with it reaching as high as 3ft (0.9m) on Bridge Street.
Roads also included Bridge Street, Bridge Square, Invercauld Road and Station Square.
The town was previously hit by severe flooding following Storm Frank at the end of 2015.
Hundreds of residents had to flee their homes and dozens of businesses were wrecked when the River Dee burst its banks and engulfed the community.
Parts of the village were left devastated after 3-4ft (0.9-1.2m) of water flooded through streets, destroying homes and businesses.
Councillor Geva Blackett, who represents the area, said: "I feel so sorry for Ballater folk – hit again."
She went on to say that she would be going along to the scene to see what can be done, and to report back to council officers.
She said: "It wasn't nearly as bad as last time.
"We had the duck festival yesterday afternoon and hundreds of people came.
"Ballater is alive and well and kicking."
Met Office weather expert Marco Petagna said: "During warnings, 20-30mm (0.7-1in) of rain fell in an hour and 40-70mm (1.5-2.8in) in two or three hours. Some areas had 50mm rainfall in quite a short time. Average rainfall for June is 76mm or three inches, so some parts saw two-thirds of the average month's rain within one hour."
Video courtesy of Chris Bruce from the Roaring Stag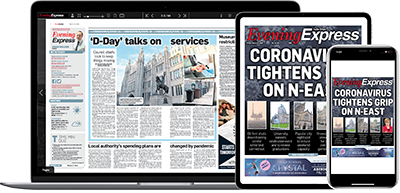 Help support quality local journalism … become a digital subscriber to the Evening Express
For as little as £5.99 a month you can access all of our content, including Premium articles.
Subscribe