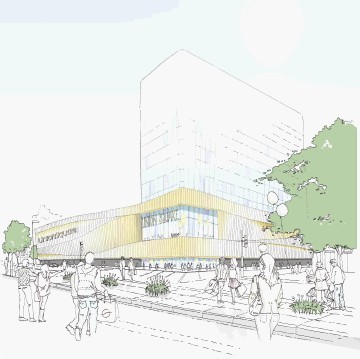 THE owner of Union Square have been asked to improve public transport facilities as part of a £200 million extension plan.
Bosses at Union Square are poised to submit plans for the Guild Street site in Aberdeen before the end of the year.
As revealed in yesterday's Evening Express, the public has picked a maritime theme as the favoured design plans to expand the shopping centre, which sits next to the city's train and bus stations.
The proposed extension would be built into the current surface car park and stretch along Market Street.
It would add an extra 1,000-space multi-storey car park, a 120-bedroom hotel, and room for 30 new retailers.
Union Square bosses updated city councillors on the plans at a meeting.
Councillor Ramsay Milne, convener of the development management committee, said: "The key issues raised was the poor standard of the bus station and the requirement to redevelop a high standard facility catering for all bus companies which is readily accessible for pedestrians and for drop off."
Union Square bosses are hoping their plans will fit with the City Centre Masterplan, which aims to promote sustainable transport.