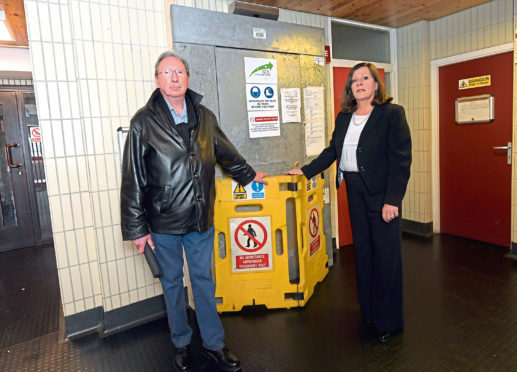 An Aberdeen councillor has hit out after another letter was sent to high-rise residents asking them to pay almost £6,000 to the council for work being done to install new lifts.
The flats are a mixture of private and council-owned, and private residents are having to foot part of the bill.
Private occupants of Wallace, Bruce, Rose and Davidson Houses on Provost Graham Avenue in Hazlehead were told they would have to pay £5,758.46.
Originally, the residents received a letter asking for payment and at the end of last month those who had not made payment got another letter.
They were told if they failed to pay, the costs would be met by the council – but administration fees and interest would be charged until the debt is paid. The letter also warned legal fees would apply if a repayment charge was needed to secure the debt.
No mention was made of being able to pay back the sum in instalments.
Jennifer Stewart, councillor for Hazlehead, Queen's Cross and Countesswells, has previously called on the local authority to allow residents to pay the money in instalments.
Ms Stewart said: "When I read the letter, my heart sank. The letter, and its tone, has not moved on since previous corresp-ondence. It doesn't come across as helpful and I think there is an underlying threatening tone to it.
"I have gone to the highest level at the council, to try to get a letter sent that says to residents 'we acknowledge that £6,000 is a lot of money, but we can work with you to pay it up over a period of time', without it coming over in that heavy-handed way.
"It has taken too long for this to be resolved, residents have now had this on their plate for eight months, wondering if they will be able to pay the money."
She has now taken the matter to the head of housing at the local authority.
Roger Carlund, a 68-year-old retired teacher, who lives in Wallace House, has written to the council's chief executive Angela Scott.
He described the letter as "inappropriate", saying: "A lot of residents are elderly, and are on fixed incomes, and at the meetings that we have had with the council, they have said that they would struggle to pay up front, and offered to pay in instalments.
"We are still waiting to find out if it's totally impossible to pay in instalments. You have to look at the human aspect of this, put the rest on the back-burner."
Another Wallace House resident, who didn't want to be named and has already paid, said: "I didn't have the money in my savings, so I was forced to sell off some premium bonds. I was really annoyed at having to dip into my rainy day fund."
An Aberdeen City Council spokesman said: "The council, as the property factor, has engaged with private owners within multi-storey blocks in Hazlehead over the course of a number of months in relation to the requirement to replace lifts in these blocks.
"We have a duty as a council to ensure owners meet obligations in relation to repairs and improvements.
"Every owner's circumstances will differ and we are committed to taking this into account, with an invitation made to all owners who have been contacted to discuss the issue directly with us."