Councillors took to Aberdeen's street in wheelchairs to experience accessibility issues for themselves – and have now vowed to improve Aberdeen streets.
Deputy city council leader Marie Boulton, along with councillors Stephen Flynn, Steve Delaney, Len Ironside and Conservative candidate Douglas Lumsden, tackled a mile-long city route set by disabled support charity Future Choices.
Starting out from Union Square – after a half-hour health and safety briefing by centre staff – it didn't take long for the group to run into problems.
The crossing at Guild Street left two of the wheelchair-users unable to get on to the pavement once they had crossed the road.
Councillors then tackled The Green, where the slight incline on the route proved challenging for many.
The cobbles leading to Market Street also left the group struggling, with many needing help from the Future Choices volunteers on hand.
The wheelchair challenge was devised by David Forbes, chairman of Future Choices, after he had been inundated with complaints from wheelchair-users about the Granite City's streets.
He said: "This is a chance for the councillors to see it's not just about ramps, it's about much more.
"I want them to work closely with disabled groups and really listen to our suggestions.
"We will follow this campaign up with action."
Ean Watt from Aberdeen has used a wheelchair to get around the city for years and joined the councillors on their challenge.
According to Ean, it is not only the pavements and cobbles that pose problems for wheelchair-users.
He said: "The cobbles on the streets are bad – I've been tipped out of my chair before.
"But one of the worst things is when people drop milkshakes or leave dog dirt in the street, which happens a lot.
"If you don't spot it you go right through it and it's all over your wheel and gloves.
"Broken glass is also an issue. I've had punctures which I have to stop and repair.
"A big bugbear is cars parking on pavements.
"I've almost been knocked down while trying to get around a car before. It's very dangerous and in the chair you can't see as much."
Crossing Union Street also presented problems for councillors.
The group struggled to make it over the busy road before waiting traffic was given the green light.
One of the greatest challenges for the councillors was right outside the Town House.
The cobbles, which have been patched up with tar and cement almost tipped one councillor from his chair.
Speaking after the challenge, Cllr Boulton said the experience was an eye-opener.
She said: "My father is a double amputee and uses a wheelchair so I have experience of the challenges this brings.
"Today I've noticed a few things I'll be raising with officers.
"Moving forwards we should be examining all future plans – including the masterplan from this perspective – so we are addressing these issues as we move forward with plans for the city."
Cllr Flynn said the local authority needs to go further than making token gestures.
He said: "We need to properly reflect on this.
"I've seen today it's not helpful or easy for disabled people in the city, and that's not fair.
"The crossing outside our office was probably the worst, which is rather embarrassing."
Cllr Ironside said the challenge had proved physically and mentally exhausting.
He said: "It was a good experience and very helpful.
"Things like the timing of the lights on crossing are far to short and the cobbles are very difficult.
"There's a chance here to have much more dialogue with disabled people on these issues."
Cllr Delaney said the experience was every bit as challenging as he expected.
He said: "It was an experience. Even things like uneven pavements were causing issues.
"Getting across roads in time was actually pretty scary too and the bad paving didn't help."
Conservative candidate Mr Lumsden said the exercise was tough, leaving him with sore hands after just a mile.
He said: "This really makes you realise that in everything we do, the infrastructure has to be in place properly for everyone.
"There are certain streets I've walked along and haven't seen issue – after today that's all changed."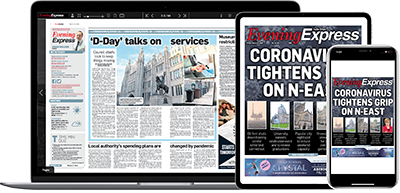 Help support quality local journalism … become a digital subscriber to the Evening Express
For as little as £5.99 a month you can access all of our content, including Premium articles.
Subscribe