Council chiefs are set to investigate a request to set up a segregated cycle path on Aberdeen's Union Street.
Rachel Martin, from Ferryhill, decided to start a campaign after concerns over the safety of cyclists in bus lanes on one of the city's busiest routes.
Putting her case to members of Aberdeen City Council's operational delivery committee yesterday, the 42-year-old said she "feels like she's on the set of Terminator 2" when cycling next to buses along the route.
She said: "It might seem expensive but a report from the UK Government found that for every £1, £5.50 is returned in benefits like health benefits, reduced congestion, pollution and roads maintenance.
"Union Street is the heart of Aberdeen but the businesses are struggling and they have been for a long time. It's congested and it's polluted.
"A very easy way to do that is to put in cycle paths and it's also a cheap way to do it.
"Then we're sending a clear message that active travel is important and we want to encourage cycling."
Ms Martin told councillors that if it takes off, there would be more cycle paths integrated into major streets around the city.
The cyclist has previously said she was motivated to start up the petition after her own experiences cycling on the street, which she said was "frightening".
Members of the operational delivery committee agreed a report will be brought back on the proposals, subject to an ongoing public consultation into the City Centre Masterplan.
Speaking after the meeting, committee member Councillor Jennifer Stewart said: "I think it would be great if there was the possibility of having a designated cycling area on Union Street.
"However, I would be concerned if people who are going to be cycling within the designated area don't actually take the cycling proficiency. If this were to go ahead then people should be encouraged to take the cycling proficiency and perhaps some form of Highway Code test."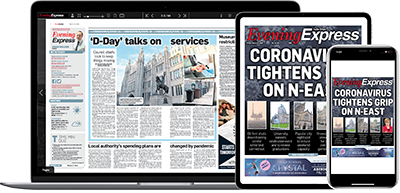 Help support quality local journalism … become a digital subscriber to the Evening Express
For as little as £5.99 a month you can access all of our content, including Premium articles.
Subscribe