Plans to repair uneven roads in an Aberdeen community have taken a step forward.
SNP councillor Ciaran McRae, who represents the Northfield and Mastrick ward, raised concerns with Aberdeen City Council about the state of the surfaces on Granitehill Road and Provost Rust Drive, which are plagued by potholes.
After submitting the request, it was agreed that permanent long-term repair was required and will be discussed at the local authority's budget meeting next month.
The report stated: "We are looking at problem junction locations this summer with a view to properly resurface rather than undertaking a short term fix.
"The junctions of Provost Rust Drive will be added to this list for a permanent long term repair."
The work, if approved, will be given an estimated completion date of October 31.
Cllr Mcrae said: "Even before I was elected into the area, residents were complaining about the state of the road while I was on the campaign trail. Since being elected, I got in touch with officers to see what could be done to upgrade the roads network around the ward.
"I am glad to say that Provost Rust Drive and its junctions will hopefully receive upgrades this summer. I will continue to push for other areas of Northfield and Mastrick."
Brian Priaulx, 77, who lives near Provost Rust Drive, was one of the residents to push for action over the state of the roads.
He said: "The roads are terrible right now – I see temporary repairs being done all the time and they last about five minutes.
"We have a problem with people parking on one side and so traffic is forced to travel on the other causing problems.
"I think the work needs to be done within the next two months at least, the roads won't last until summer.
"The potholes at the junction with Granitehill are particularly bad – especially when you are waiting at the traffic lights."
Cllr Ross Grant, the city council's transport spokesman agreed that keeping roads safe was of vital concern.
He said: "Road maintenance is an important issue for everyone in Aberdeen and within the administration.
"We have committed to increasing investment in road maintenance by £10 million and we are looking at that along with other budget priorities."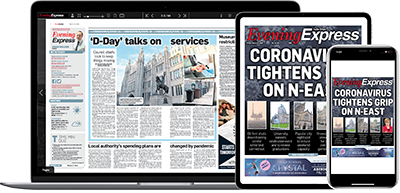 Help support quality local journalism … become a digital subscriber to the Evening Express
For as little as £5.99 a month you can access all of our content, including Premium articles.
Subscribe