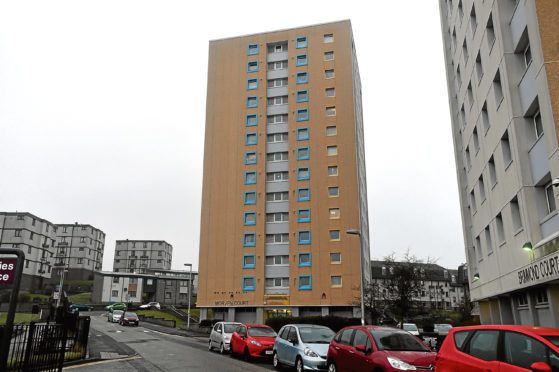 High rise residents could face court action if they continue to deny council workers access to make fire safety improvements.
As part of checks, in the wake of the Grenfell Tower tragedy, defects were found in the cavity barrier at a kitchen ventilation duct in Morven Court in Torry – which could have let any fire spread.
Aberdeen City Council has completed 90% of the repair work, but still needs access to other flats to finish the work.
Council officers are planning to visit the properties again prior to Thursday but a report to city councillors adds: "Following this, enforcement action could be taken, where access continues to be refused, so as to provide certainty that this potential risk has been eliminated."
The Evening Express understands that ultimately court action could be required if residents continue to refuse permission for works in their property.
Vicki Gray, 32, a resident at Morven Court for nine years, said: "I think people who are doing this (refusing permission) are putting the rest of us in danger. I live here with my three children and they are putting everyone at risk.
"When the officers came it was before Christmas and they came in to check my kitchen vent. They weren't even in my home for more than an hour, so it's not like it takes a lot of time."
The details are part of a new report to the local authority's audit, risk and scrutiny committee and has been written to "provide assurance" on the council's response to the Grenfell Tower fire.
It reveals the Morven Court defects were found on August 17, 2017.
The report said: "This would have potentially allowed fire to spread through to the next cavity, one storey above, in the event of a fire. A meeting was convened with all the relevant stakeholders, however the risk was assessed as being low. Staff worked with the contractor and an action plan to install cavity barriers was developed.
"Residents in Morven, Brimmond and Grampian courts were contacted by letter to advise of this issue due to the similarity in construction design of all three buildings, advising of the defective cavity barriers and requesting access to improve the installation."
Work to install additional cavity barriers has been carried out to 90% of flats across the three high-rise blocks with no further defective barriers found.
The council is currently carrying out a further round of targeted visits to the remaining 10% of flats to try to gain access, up until Thursday.
The report said: "Following this, enforcement action could be taken, where access continues to be refused, so as to provide certainty that this potential risk has been eliminated."
It also details that of the 3,853 flats owned by the council within high rise blocks, all, apart from 47, are fitted with mains powered smoke detectors.
Residents in these 47 properties have previously been offered smoke detectors, but have so far refused.
It added: "Officers will continue to revisit these addresses every three years to complete upgrades, and are investigating whether we have the right to gain entry within the lease agreements."
Police and fire services believe the Grenfell Tower fire in June started accidentally in a fridge freezer.
The rapid growth of the fire is thought to have been accelerated by the building's exterior cladding, known as Aluminium Composite Material (ACM).
ACM panels were known to have been used in two educational buildings in Aberdeen – the former Woodlands School and within Aberdeen Grammar School's 2007 games hall extension.
However, the report states that due to the low height of the games hall, below 10m, the school evacuation plans and the distance from any source, any risk is low.
The council owns or partly owns 59 residential high rise buildings in the city with 22 fully owned by the council and homes in 37 sold under right to buy legislation, meaning ownership of these buildings are shared between the council and private owners.
The report said: "18 of Aberdeen's high rise domestic buildings have over-cladding and there are a further seven where over-cladding work is ongoing. The over-cladding work on these buildings has been carried out by contractors commissioned by the council–Lovell, Graham Construction, and Keepmoat. All over-cladding work has been commissioned to protect the buildings from the environment, and provide improved energy performance and increase the lifespan of these buildings."
The report adds that all cladding work has been undertaken in compliance with legislation.
It said: "It is important to note that this legislation demands a greater level of assurance on fire safety issues than similar English legislation.
"This means that the materials used in the over-cladding of ACC high rise domestic buildings are not the same as that reported to have been used at Grenfell Tower."
From the day following the tragedy last summer, council staff have worked alongside the Scottish Fire and Rescue Service (SFRS) and Police Scotland to ensure resident safety.
A total of 4,425 letters were delivered to all residents in high rise buildings, 16 drop-in sessions were held for high rise residents with the SFRS, 59 high rise inspections were carried out and more than 650 works orders raised to improve the condition of high rise buildings across the city.
The council and the SFRS undertook a detailed list of all high rise properties, inspection dates, whether any over-cladding was in place, confirmation of compliance with building regulations at the time of their construction and evacuation procedures with "satisfactory results".