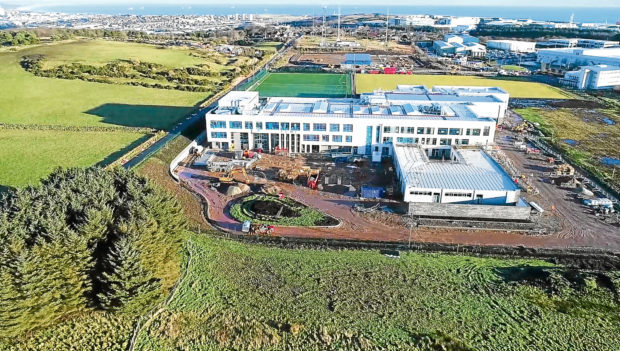 Aberdeen City Council has been accused of "turning its back" on a community as councillors met to discuss safe walking routes to a new academy.
Safety concerns have been raised by parents over pupils walking from Cove to the new Lochside Academy at Nigg, scheduled to open for the 2018-19 academic term in August.
Councillors on the local authority's operational delivery committee met at the Town House yesterday to agree a raft of safe walking routes for Cove pupils travelling to the new secondary school.
The recommendations, narrowly approved by seven votes to six, included agreeing a puffin crossing be created on Earn's Heugh Road in Cove, next to its junction with Langdykes Road.
However, SNP group leader Stephen Flynn accused the ruling coalition of Conservative, Independent and suspended Labour councillors, of "turning its back" on the community after they did not vote in favour of some additional safety measures.
Mr Flynn said parents in the area had expressed to him the need for a crossing on Cove Road, at its junction with Earn's Heugh Road.
He added: "We have an opportunity to make that road safer.
"The parents I have spoken to have said they won't let kids cross that road."
Mr Flynn also said parents in Cove felt an "injustice" that their children would have to pay should they want to take a bus to the new academy, unlike pupils in Kincorth and Torry, who will get free bus travel.
He added: "If we're going to ask them to walk, we need to make sure they're doing it safely."
In their report, council officers had advised councillors not to proceed with a pedestrian crossing on Cove Road.
They argued their modelling, based on the number of pedestrians crossing the road multiplied by the number of conflicting vehicles, does "not qualify" for any type of crossing facility.
Fleur Tarling, chairwoman of Loirston Parent Council, said she shares the concerns of parents over the busy road.
She added: "My husband leaves at 8am and he leaves in the car and struggles to get out.
"Their attitude seems to be very much 'we will see what happens when the school opens'."
However, vice-convener of the committee, Ross Grant, said councillors had to trust the advice of their own officers.
He said: "When it comes to road safety and making recommendations, we are as ever reliant on the professional opinion of our valued colleagues.
"The result of the surveys that have been carried out do not justify the need for additional traffic management at this stage."
He added: "In spite of Councillor Flynn's reckless scaremongering, with the approval today of additional measures at, among others Earn's Heugh Road, South Loirston Road and between Charleston Crescent and Drive, we have gone farther than ever in terms of road safety measures for Lochside pupils."
A proposal by opposition councillors to install guard railing along the stretch of Wellington Road between Charleston Road North and Souterhead Road roundabout was also not supported by a majority of councillors.
Officers said the width of the footpath would be narrowed and it would only stop vehicles travelling at a "very low speed".
Councillors did, however, agree to ask officers to progress with proposals to upgrade the path between Charleston Drive and Charleston Crescent and to install lighting on South Loirston Road.