The programme of events for an Aberdeen arts festival has been announced – but this time with a sweet surprise.
The schedule for 2018's Look Again Visual Art and Design Festival has been given a sugary boost as Mackie's of Scotland, a supporter of the festival, has offered to dish out a brand new flavour of ice cream at one of the installations.
Mackie's will serve up its new gingerbread creation for free at A House in the Woods by James Rigler, which will be in the Marischal Quad.
Look Again, a cultural initiative of Robert Gordon University (RGU), invites the public to discover contemporary art and design in familiar city spaces.
This year's festival – which runs from June 14-17 – will look to Aberdeen's economic future and organisers hope it will raise awareness of the potential of the region's creative industries.
The event will also tie in with Scotland's Year of Young People project by holding events and exhibiting new works around the theme of 'serious play'.
Festival director Sally Reaper said: "We have an even bigger and better festival lined up for this year and are excited to be working with a host of local, national and international artists to really bring the city to life over the course of four days in June.
"What we are trying to do is to create a lasting legacy and a reinvigorated creative economy within the north-east and we believe this is a truly transformational time in the region's history in terms of its cultural offering."
Artists involved include Emily Speed, whose work will explore the transition to adulthood, and Ellie Turner, who will present an interactive sensory space.
The 2017 festival recorded more than 35,000 engagements at its various sites across the city and on campus at RGU.
Head of RGU's Gray's School of Art Libby Curtis said: "We are thrilled to be celebrating the Year of Young People by joining forces with Look Again and reflecting its theme of "serious play" to spotlight great visual art and design across the city."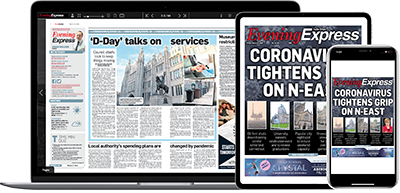 Help support quality local journalism … become a digital subscriber to the Evening Express
For as little as £5.99 a month you can access all of our content, including Premium articles.
Subscribe