A contractor could be appointed early next week to deliver the long-awaited Union Terrace Gardens revamp.
Aberdeen City Council has been locked in "final negotiations" with a contractor for several weeks to deliver the £25 million transformation.
But the local authority's co-leader Douglas Lumsden said the contractor should be formally appointed early next week.
He added: "It needs to be ratified by the board of the contractor next week and I believe that is happening early next week."
The flagship project was originally due to be completed by July but had been knocked back until 2020.
The transformation of the park includes creating shop and cafe spaces in the arches, and installing water features and community gardens, with work expected to take between 18 and 21 months to complete.
Both the SNP and Liberal Democrat groups have called for the scheme to be thrown out and replaced with a plan to commit £3.1m to carry out safety works at the Victorian park.
Councillor Alex Nicoll, SNP resource spokesman, said: "The SNP proposed an alternative for Union Terrace Gardens at the budget process, costing a fraction of the cost, but the administration are continuing to push ahead with their vanity project.
"A number of weeks have now passed since the council was near to appointing a contractor and still we know nothing.
"The administration must come clean and tell the people of Aberdeen when work will begin on UTG and what the timescale for the project actually is.
"The original timeline for this project had it finishing summer 2019, and while we know that is not going to happen, it's not good enough to hide behind a veil of secrecy and not tell the public when work will actually begin and end."
Mr Lumsden said: "This is exactly the kind of development citizens of Aberdeen are crying out for.
"It really is high time the SNP stopped knocking our city and started to take pride and interest in the benefits of the Aberdeen City Centre Masterplan agreed unanimously by council in 2016."
An Aberdeen City Council spokesman said the process of appointing a contractor was "nearing completion".
He added that: "It would be inappropriate for us to comment while we are completing commercial negotiations."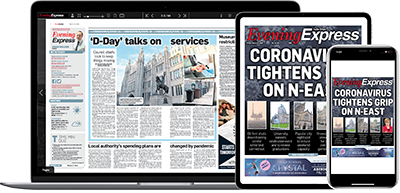 Help support quality local journalism … become a digital subscriber to the Evening Express
For as little as £5.99 a month you can access all of our content, including Premium articles.
Subscribe