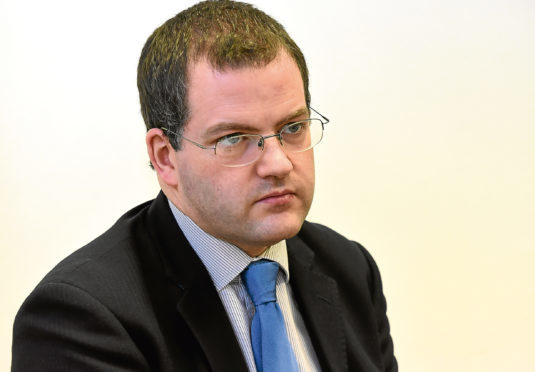 A standards body has recommended Aberdeen Donside MSP Mark McDonald is suspended for a month without salary.
The ex-SNP minister, who is now serving as an Independent, was probed by the Commissioner for Ethical Standards in Public Life in Scotland over allegations that he behaved improperly towards colleagues.
Today, the body has decided Mr McDonald's actions constituted sexual harassment.
However, the final decision will be taken by the Scottish Parliament.
Responding to the decison, Mr McDonald said: "I have accepted the findings of the Commissioner's report in relation to the two breaches of the code of conduct.
"The first finding relates to the sending of an inappropriate social media message to a female member of staff employed by another MSP.
"This message was the reason I resigned as a Scottish Government Minister in November 2017, and I have previously made a public apology for having sent it. I reiterate that apology today.
"The Commissioner has concluded that this message constituted sexual harassment. Analysis by my solicitor suggested that, while I accepted the message was inappropriate, it did not constitute sexual harassment.
"I therefore advised the Standards, Procedures & Public Appointments Committee that I did not accept the finding. The Committee has chosen to accept the Commissioner's conclusion.
"The second finding relates to my having asked a member of staff to make a payment on my behalf, with my reimbursing her some 24 days later.
"I have accepted that this was an inappropriate request to make, and that I should have reimbursed her much earlier than I did.
"While I have explained that the delay arose from a loss of perspective on my priorities after a serious family health issue, I accept entirely that it was wrong and I have publicly and privately apologised to the woman in question. Again, I reiterate that apology.
He added: "The commissioner's report has disproved or disregarded the overwhelming majority.
"The manner in which Mr Dornan chose to publicise his complaint, and make lurid allegations against me, has had a significant and lasting impact upon my personal mental health and wellbeing, and has thus affected my family. I am grateful that these allegations have not been upheld, as I have always denied them.
"The committee has chosen to recommend that I should be suspended from parliament for a period of one month with no salary.
"This will not affect my staff members, and will not prevent my ability to continue to represent my constituents.
"The committee's recommendation will be subject to a vote of Parliament.
"I will take no part in the vote of MSPs in relation to this and will accept the outcome of that vote. I have sought since my return to demonstrate that I have reflected on my conduct and I will continue to do this.
"I will, as always, continue to represent the interests of my constituents diligently as I have done from the moment they did me the honour of electing me."