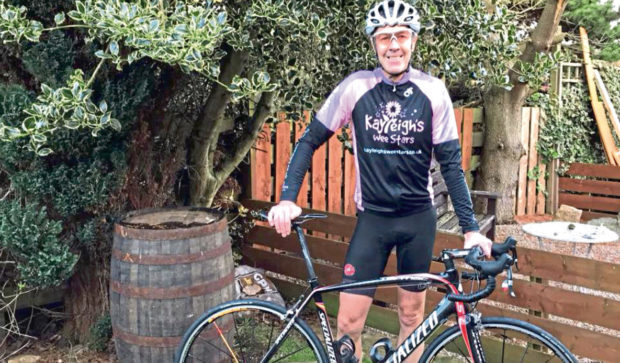 A cycling fan was today making a spirited effort to raise cash for charity by pedalling around 41 distilleries in under 12 hours.
Colin Sim, 56, of Stonehaven, is hoping to provide a boost for Kayleigh's Wee Stars (KWS).
The challenge around Speyside is part of Colin's wider mission to visit all distilleries in Scotland.
He said: "I've visited 85 so far but the problem is they keep building new ones, so I've made it the rule that they must have been making whisky for three years as it must be maturing in a barrel for three years before it can be called whisky."
Colin's chosen charity, founded by husband and wife Jonathan and Anna Cordiner, was started in 2012 after the death of their two-year-old daughter Kayleigh from an atypical teratoid rhaboid tumour, a type of terminal brain tumour.
Having taken time off work as primary teachers to make the most of Kayleigh's last months, Jonathan and Anna set up KWS to provide financial support for other families who may not have the support network they had.
The charity, based in Oldmeldrum, holds an annual cycle event in Ballater with 57- and 95-mile routes, which will take place on October 6.
The KWS cycle is where telecoms engineer Colin, along with wife Linda, found out about the good cause.
He said: "We are both keen cyclists and have taken part in the Ballater cycle for the last four or five years. Cycling shows you parts of the countryside you may not otherwise visit.
"I've made it my personal mission to visit all of the distilleries in Scotland, and I always had this idea for Speyside so I thought I would combine this hobby with fundraising for KWS – it's a very moving cause.
"I've always been impressed with the work Kayleigh's Wee Stars does and the difference they can make to some families."
The 56-year-old was planning to visit 41 distilleries today beginning with Aultmore in Keith at around 6.30am, before passing by Glenfiddich, Tomintoul, Cardhu, Glen Spey, Glen Lossie and finishing at Glen Moray in Elgin at around 5.30pm.
He said: "It's probably only around seven hours on the bike but with the stopping for pictures, perhaps a few drams, that will add around two hours.
"This cycle will be challenging because of the frequent stops, as the body seizes up when you take a break, but I'm looking forward to it – I think I've been lucky with the weather."
He will be joined by friend Graham Robson, also of Stonehaven, for the first few distilleries.
Colin had originally set out to raise £1,000 for the charity, but after donations from 138 generous people, he has now raised £2,435.
To add to this, 24 of the distilleries involved agreed to donate a bottle of malt whisky, and one bottle of gin, to raffle off.
Colin added: "For every £5 donation made, they will receive one entry into a prize draw to win all of the bottles donated – likely to be worth £1,000 to £1,100."
Jonathan said: "We are so very grateful to Colin for his efforts in organising and taking on this challenge.
"We are a small charity and in order to continue providing support to families where there is a child with a terminal illness, we rely heavily on people taking on fundraising challenges. This is an excellent example of just that.
"Colin, the very best of luck. May the wind be at your back and please do not sample a dram in all 41 distilleries! Thank you for your efforts."