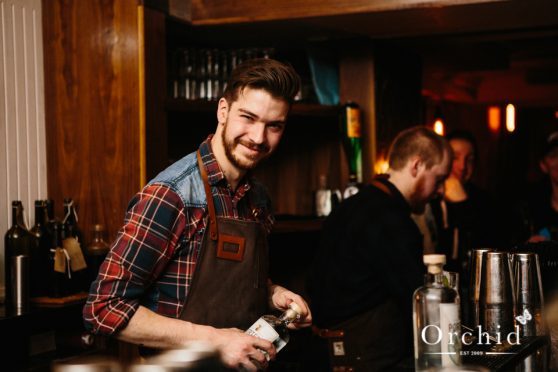 While Aberdeen is a city globally known for its oil and gas industry, the craft of making the most delicious cocktails has led to many of Scotland's top award-winning bartenders calling the city home.
With numerous bars and restaurants now boasting extensive and well-landscaped menus, the prestigious cocktail bar trade is one the city can be very proud of.
Celebrating World Cocktail today, a clear focus for bars and bartenders across the North-east at the moment is sustainability.
Nick Gordon, 25, general manager of Orchid and winner of Scottish Trade Licensed News (STLN) Mixologist of the Year 2016, said: "Cocktails are a good way to enjoy drink. There's so many various differentiations of cocktails but there's always something for everyone. At Orchid we drive into our staff to learn as many classic cocktails as possible so that we can always create something for any customer. It makes drinking a little more exciting and it allows people to try something new.
"Sustainability is a massive thing in the industry. It's all about reducing waste and how we can use everything in the bar to create something delicious.
"Take mint for example, instead of throwing away the stems we make our own mint stem cordial. It's important for the industry as a whole to be honing in on this – it encourages us to adapt and create new drinks too."
With something to suit all tastes, cocktails continue to be a popular choice with customers. However, with the growing wave of gin still battering the drinks industry and the rise of craft Aberdeen gins being produced, it's no surprise that gin cocktails have been a popular choice in North-east bars.
Bar manager of Dusk Cocktail Bar, Ricky Chan, 28, said: "Cocktails work for everyone. The theatricals and entertainment customers experience at cocktail bars and the knowledge of flavours to suit different people's palettes is one of the main reasons so many people come to enjoy drinks. We experiment a lot.
"Everyone wants more quality products and there's definitely still a big market for cocktails. Gin cocktails have been really popular just now especially those ones which use smaller batch gins. People love the Aberdeen gins that are being created."
Technology has also been creating a stir in the drinks industry. With new technologies now more readily available it allows bars like Orchid – which uses a rotary evaporator to create the cold part of Aberdeen's first gin, Porter's Gin – to execute new drinks and flavours. Equipment like smoking guns, sous-vide, water baths and spherification ensures customers are able to enjoy drinks in new, innovative ways and watch the theatrics and entertainment bartenders put into creating drinks.
Joe Nelson, 29, bar manager at Malmaison Aberdeen, said: "Just now it's all about the meeting of old and new, there's lots of old templates of drinks for modern bartenders to use but they're now incorporating things like a smoking gun, clerification, spherification and using numerous other technologies when creating drinks. It's all about finding the balance by creating new flavours and drinks with the new technologies on the market.
"The best thing about cocktails is that they stimulate all five senses. When you make a good cocktail you have to instil confidence, when you put it down the customer will judge it, so it's important that it's always good – it's like putting a piece of art in front of someone. By smelling its aroma before it's even passed their lips, customers will know if they will like it and the best thing about them is that they are really easy drinking.
"Everyone always enjoys them and its a great way to introduce someone to alcohol."
With new and old drinks coming on the market, Joe sees the marriage of historical bartenders and modern bartenders as a key aspect to the industry's continued success.
He said: "There's a huge market for cocktails. Some come and go, but the classics truly stick. Espresso Martinis are a great example of a new drink becoming really popular as they were only invented in the last 20 years or so and every bar around the world now makes them. The simplest cocktails are the best like a daiquiri or a white Russian. That's every cocktail bartender's goal I guess, to create a modern classic that everyone wants to make."
Just as the interest in understanding where our food comes from has risen, consumers grow more and more intrigued about what they are drinking and the origins of their drinks.
STLN's Craft Spirit Enthusiast 2016 and Mixologist of the Year 2015, Andy Stewart, 38, head bartender of The Tippling House, said: "We should celebrate cocktails just as we celebrate food. It's great to be able to create drinks with different components to create something beautiful.
"The way I look at it for cocktails and cocktail bartending is the same as the rise of celebrity chefs and people looking at what they are now putting in their bodies.
"When I was a kid there weren't many celebrity chefs, but nowadays there's so many different ones encouraging people to eat different foods and we're beginning to see an element of this in the drinks industry now.
"People now brand call because they are interested in the history of different brands, and everyone is wanting to learn how to do these things.
"Trends are different for bartenders as what we like doesn't necessary relate to what the public wants at the time.
"At the moment, gin is massive for our customers so although many bartenders are focusing on new spirits we're still providing lots of drinks to suit their tastes."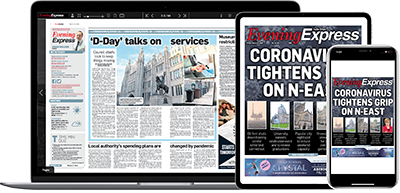 Help support quality local journalism … become a digital subscriber to the Evening Express
For as little as £5.99 a month you can access all of our content, including Premium articles.
Subscribe