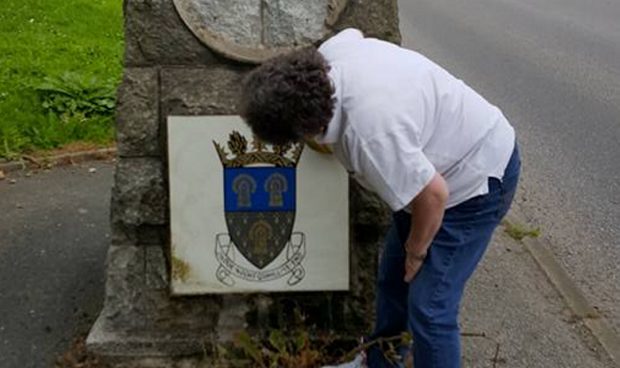 A councillor decided to roll up her sleeves and clean dirty coats of arms following complaints.
Gillian Owen had received a number of complaints about the Ellon signs which can be seen when entering the town via South Road.
The Ellon and district ward member had asked Aberdeenshire Council officers to look into what could be done – but ultimately decided it was just as easy to deal with the situation herself.
She turned up with cleaning products and, with the help of her husband Steve, she freshened up the two coats of arms.
Cllr Owen said it was great to have them sparkling.
She said: "A couple of people had been in touch with me and were seeing if there was anything that could be done to the coats of arms.
"In total it was probably three or four people in my constituency and I agreed with them that it was looking a bit messy so I got in touch with council officers to see if there was anything that could be done.
"One of the coats of arms appears to have got more sun than the other and was looking a lot whiter.
"Steve and I had been driving past at the weekend and both said it would be great if it could be given a bit of a clean.
"I believe it was Steve who then said we should come back on Sunday to do it ourselves. So we returned the Sunday just past with some soapy water and a big sponge.
"It was quite fun as people were tooting at us as they were driving past and seemed to be happy that something was getting done.
"It is the first thing that people see when they come into Ellon so it is great that it is looking all nice and shiny again."
The councillor is now looking to enhance the coat of arms by getting a welcome sign installed at the site.
Cllr Owen added: "It only took me around 10 minutes to get the coat of arms clean in total.
"I had actually put the images up on Facebook and had some nice comments and people asking me if I can clean other items.
"I don't have any plans to continue cleaning but what I am looking to do now is if you look above the coat of arms there used to be something attached to it. Some people have told me it used to be a speed limit but I think it would be wonderful to get a welcome to Ellon sign installed there."