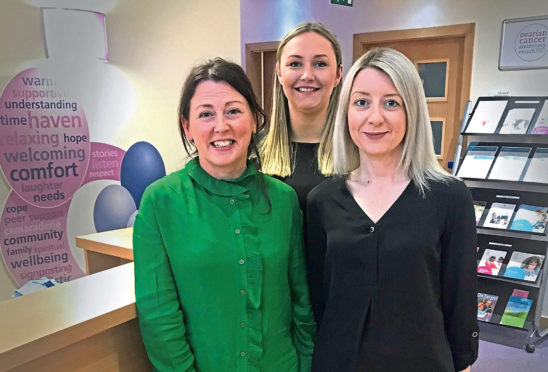 Three staff members at a north-east charity are helping to support the work it carries out by undertaking extreme challenges during the coming months.
The employees at CLAN Cancer Support, which has a centre on Westburn Road, Aberdeen, have been inspired by the important work carried out by the charity, and have decided to push themselves to raise money for the organisation.
Children and families' services manager Tina O'Boyle, whose day-to-day job involves providing advice and support to young people affected by cancer, is busy training to walk the Great Wall of China in October.
Tina and her team of six specialists support children emotionally through changes that can happen after a cancer diagnosis.
She said: "It can be very difficult for children to understand cancer, and we work with the youngsters, schools and health professionals to try to make sense of what's happening."
Her colleague Sarah Cuthill will join her on the trek after she was supported by CLAN eight years ago after her mother, Diane, battled non-Hodkin's lymphoma.
Now fully recovered, Diane will join Sarah on the challenge, which will see the ladies walk 10,000 uneven steps along the 300-year-old winding pathway.
Sarah and Diane are planning several activities to help reach their £6,000 target, including a race night, a ladies' day and a gin-tasting event.
Sarah said: "Working at CLAN makes you feel passionate about the work we do here.
"The services my brother and I were able to access were so important – not just to give us time to think, but to give us a calm space to deal with how we were feeling."
CLAN HR adviser Karen Gardner will also be pushing herself later this month for the charity by taking part in the London Marathon.
Karen, who isn't a regular runner, has been following a strict training plan since Christmas in anticipation of the April 28 event.
She said: "I have had the privilege of working for CLAN for four years, and every day I see and hear what a huge impact the amazing staff, volunteers and practitioners have on clients at a time when they need it most."
People can join the Great Wall of China trek on bit.ly/2Ucugwy