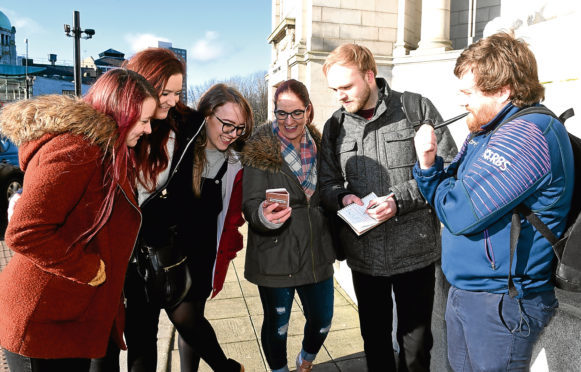 The streets of Aberdeen were turned into a real life Cluedo board over the weekend.
Hundreds of would-be Sherlock Holmes and Hercule Poirots took over the city centre on Saturday as part of a murder mystery event.
The event – which has been dubbed a cross between the classic board game Cluedo and Pokemon Go – is organised by Bedfordshire company Cluedupp.
It is the first time the firm has come to Aberdeen.
Saturday saw teams of up to six people race against each other to solve the murder of a notorious nightclub owner.
The teams scoured the city centre, meeting virtual witnesses via a smartphone app.
Tref Griffiths, the owner of Cluedupp, said he was delighted with the event's success and revealed the firm was planning to return with a second murder mystery in the late summer.
He said: "Everyone we spoke to absolutely loved it.
"There was around 18 witnesses and on top of that another 18 challenges to solve.
"I was up in Aberdeen to create the game and I was surprised at what a lovely city it is.
"We'll definitely be back in Aberdeen."
Tref has organised similar games in around 100 cities and towns all over the UK, but said the turnout in Aberdeen, around 700 people, was the biggest of any of them.
He added: "That's very high.
"It's probably the biggest one that we've done so far.
"I'm not quite sure what about Aberdeen made it quite so popular."
Primary teacher Melanie Masson, 38, took part with a magnifying glass and fancy dress outfit reminiscent of Sherlock Holmes.
She said: "It's really good. This is the first time we've done it.
"There's more than 100 teams taking part.
"I think it's brilliant because they're going to have it again.
"I've done treasure trails throughout Aberdeen so this is the next step.
"It's something different.
"It's meant you can see parts of Aberdeen you haven't before.
"But we're on a time limit so we're maybe not taking it all in.
"It's similar to Pokemon Go. It's a cross between Cluedo and Pokemon Go."
Another teacher turned detective for the day Michael Middleton, 32, said the game was a good laugh.
He added: "It's nice to be out and get to know the city a bit better.
"It's just a chance to get out with some friends and have a wander around."
Michael's team also had a four-legged helper in his dog Larry.
Team mate Marjorie Johnston, 33, added: "He's the best member of the team."
Fiona Halliday, 50, took on the challenge with her daughter Kiera, 17.
Fiona said: "We love doing things like this.
"The usual mother's day treat is escape rooms, so this is right up our street."
Teams set out between 10am and 1pm to solve the murder with a number of prizes up for grabs including for best fancy dress, fastest finish and best team photo.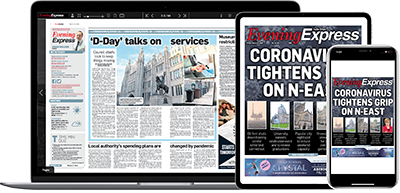 Help support quality local journalism … become a digital subscriber to the Evening Express
For as little as £5.99 a month you can access all of our content, including Premium articles.
Subscribe