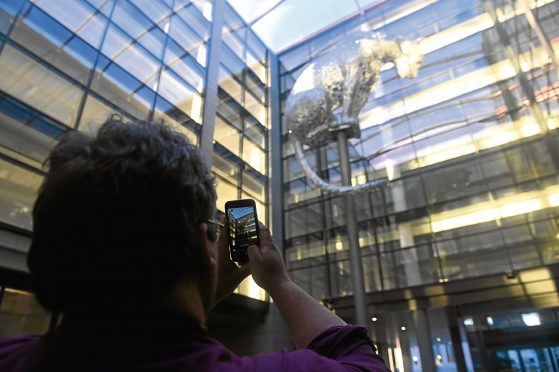 The new steel leopard sculpture in Aberdeen was given a thumbs-up as it went on public display.
City passers-by were treated to a taste of Andy Scott's artwork, entitled Poised, at the Marischal Square development.
As of yesterday, the impressive piece can be seen daily between 8am and 6pm.
The artist and Marischal Square developers believe it will boost tourism in the city.
Mr Scott said: "I've worked on this sculpture for over a year in the studio and it's been very demanding.
"There are literally thousands of steel fragments, all individually welded to help create the form of the artwork.
"It now stands five metres tall, weighs just over two tonnes, and will sit proudly atop a 10-metre steel column. I hope it brings a real presence and sense of drama to the atrium space of Marischal Square."
Anna Bertrum of Hilton said: "I think it's bonnie. I saw a post on Facebook that we could come out and see it so I came to see it for myself.
"I think it's different and unique. It'll be nice to see it lit up at night.
"I wish they could put a plaque at the bottom so people can get some background."
Ron Simpson, 65, said: "It's interesting. I think fishing is our past, but the leopard represents Aberdeen's future.
"It's fairly representative of the city and it's great that Aberdeen has something of its own."
Mr Scott's most prominent project is the award-winning Kelpies, a pair of 30-metre high, 300-tonne Clydesdale horse heads, in Falkirk
Other viewers could not fathom the size of the structure until they saw it in person.
Forbes Lawson, 65, of Garthdee said: "It's nice and it's bigger than I thought it would be.
"Being inside of the building will also help preserve it and keep it clean."
Amanda Cheyne said: "In person it's much bigger.
"I like that it will look different at night and you can tell it will look different in the reflection of the glass."
Mike Morley, visiting Aberdeen from Hertfordshire, said: "At first I was disappointed that I wouldn't be able to see it from a top view. But now that I see it from this perspective I still think it is very impressive."
The work forms part of the public areas at the £107 million Marischal Square development.