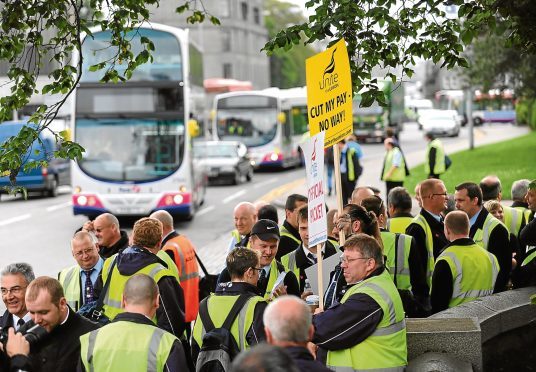 Bus drivers in Aberdeen were set to vote on working conditions today that could lead to industrial action by the workforce.
Claims have been made by drivers that changes to their terms and conditions at First Aberdeen would see their wages being cut, working hours extended and less holiday entitlement.
Unite, the drivers' union, is balloting the 300 members it represents on the firm's staff on the proposals.
The union's Wullie Wallace said if the conditions were rejected it could give the mandate to take action.
He said: "The guys are not happy with what the company is proposing and what they are looking to do.
"We will have the ballot today and we will wait to see what the results are. My gut feeling is that the proposals will be rejected by our members.
"If the company doesn't want to get back round the table and instead decides to force its proposals through, we can proceed with industrial action.
"One of the questions is if members reject the proposals and they are put through then does Unite have permission to pursue industrial action.
"This would give us our mandate to do so."
First has said its changes are aimed at safeguarding services and jobs for the future in the midst of rising costs and the North-east economic downturn.
Earlier this week, a driver who asked not to be named, told the Evening Express the changes would be a big financial blow to colleagues.
He said: "The compromising of safety by extending the driving time, slashing of the wages of drivers, is going to affect the quality of life of the drivers and potentially result in bus drivers resorting to using food banks."
First Aberdeen managing director Andrew Jarvis said: "We await the outcome of the ballot."