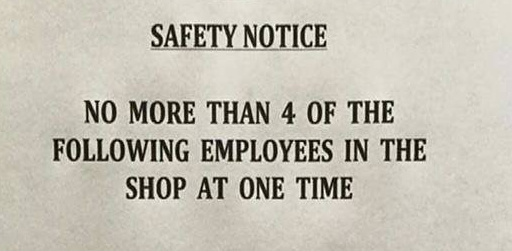 A FISH and chip shop has posted a sign hitting out at oil workers who it claims are "struggling to behave like humans".
The Harbour Fish and Chip Shop in Lerwick today confirmed it has put up the sign to tackle alleged bad behaviour among employees working for three companies.
Under the heading "safety notice" the sign states that "no more than 4 of the following employees" are allowed in the shop at one time.
The logos for Wood Group PSN, Petrofac and Morrison Construction are then listed.
"[This is] due to a minority of grown men struggling to behave like humans. Thank you," the sign says.
A spokesman for Morrison Construction said:  "While we have received no direct reports that our own operatives have been involved in any recent incidents, Morrison Construction takes the behaviour of its staff and their conduct within the wider community very seriously.
"As a result we are reiterating to all of our operatives in Lerwick the standard of behaviour expected of them and we will not tolerate any actions that cause distress to the local community.
"We will continue to strive to maintain good relations with the wider community wherever possible and ask anybody who does have a concern to contact us as soon as possible."
A Petrofac spokesman said: "We take our responsibilities to the Shetland community extremely seriously and make every effort to impress them on our staff and those of our contractors.
"This includes strict guidelines for appropriate behaviour on and off-site. If we find evidence that these guidelines have been breached then appropriate action will be taken."
A Wood Group PSN spokeswoman said: "We respect all the communities in which we operate and any breach of acceptable behaviour by our workforce would result in us taking appropriate action."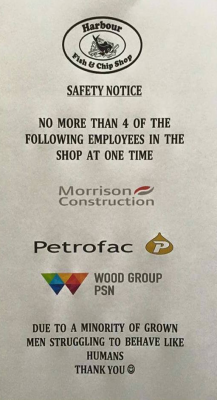 For more oil industry news, visit Energy Voice