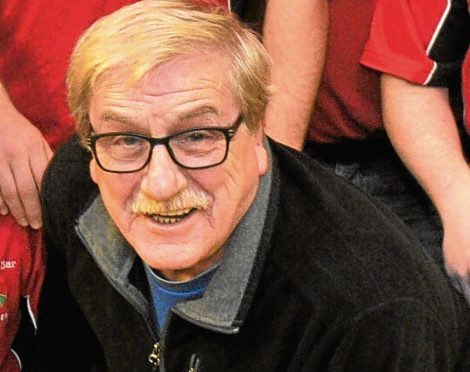 A victim of a "wicked" child rapist has said she hopes he will "rot in hell" after his appeal to slash his jail term was refused.
Eric Rafferty was locked up for 15 years in March after a jury found him guilty of a catalogue of sex offences against children, including raping two young girls.
The 70-year-old paedophile asked the appeal court in Edinburgh to cut his sentence following his trial at the High Court in Aberdeen.
Today, a spokesman for the Judicial Office for Scotland said: "We can confirm the appeal against sentence was refused."
Welcoming the decision, one of Rafferty's victims – who cannot be named for legal reasons – today told the Evening Express she hoped he would "rot in hell".
"How dare he undermine his victims and survivors," she said.
"He deserves the sentence he received. Now he has lost his appeal I can close this chapter in my life."
Another woman who was targeted by Rafferty at a young age said she was "a survivor, not a victim".
She said: "The past almost three years since it all came out has been a living hell. I had shut it all away deep down inside.
"I can now begin to get on with my life. I will never forget I just need to work my way through the pain, nightmares and flashbacks and try to start afresh.
"Now his appeal has been refused it means it's all over and I can start a new chapter in my life."
Another person who was abused by Rafferty said: "On hearing the news me and my family have breathed a huge sigh of relief knowing all his appeals have been heard and lost. My nightmare has now finally ended.
"It's a huge weight that has been lifted but with the help of loved ones and friends I can now get my life back on track. I would like to thank Police Scotland and the team who dealt with this case for all their help and support.
"I won't let my past define or destroy my future. I'm now concentrating on me and my family – if it wasn't for them I don't know where I'd be right now."
At his trial Rafferty denied the allegations against him, but was convicted of two charges of rape which involved him assaulting two girls over a number of years.
The offences, which began in the 1980s, took place over an eight-year period at addresses in the North-east and involved four young girls. Rafferty was also convicted of a charge of attempting to rape one of the girls on various occasions over more than five years, as well as four charges of using lewd, libidinous and indecent practices.
The pensioner was originally reported by one of his victims in the 1990s, but it was more than two decades before he faced justice.
On sentencing Lord Uist told Rafferty: "These were unspeakably wicked crimes and your victims have all been deeply affected by what you did to them."