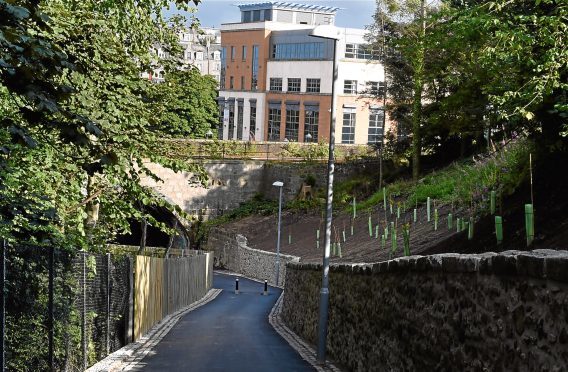 A senior councillor tried to lift the lid on a wall controversy weeks before the council claims bosses first knew of it, according to a new claim.
During an at times heated four-hour meeting of the audit, risk and scrutiny committee yesterday, Aberdeen City Council members told chief executive Angela Scott to write to former finance convener Willie Young and apologise after accusations he had a role in spending £200,000 from a publicly funded organisation on repairs to a wall on land his father owned in Wellington Brae.
Ex-finance chief says 'an apology was due' over controversy which 'didn't help' bid for re-election
At the meeting, the council's interim director for communities, housing and infrastructure Bernadette Marjoram said: "There has been no corruption and no criminality, but there have been a series of lapses and misjudgment by council staff."
Ms Marjoram said one thing that went wrong was a potential conflict of interest had not been escalated by junior council staff to people at the top of the local authority sooner.
The report said it was not until April 19 that council heads of service "had involvement in the project".
Cllr Ian Yuill said at the meeting: "I had already raised it a number of weeks before then – the issue of land ownership."
He added he had contacted Angela Scott "asking questions about land ownership".
Ms Marjoram said: "It might well have been that (the council's head of planning and sustainability) Eric Owens, who is referred to (in the report) might not have been aware of that."
Cllr Yuill added: "If that's the case, then why not? Given that I had raised it with the most senior of members of staff we have?
"These were questions. I was making no allegations. I had been spoken to by a constituent who had raised these points and I was concerned enough to phone (the chief executive).
"In 23 years as a councillor, I have only phoned the chief executive out of hours around half-a-dozen times if that, and I said at the time that I was concerned about the potential damage to the council's reputation if any of these allegations were true.
"The urgency I felt about the issue to get it resolved doesn't seem to have permeated to senior management."
Ms Marjoram, who is set to carry out a review into the role council staff played in the affair and into whether any disciplinary action is needed, said: "I took your point at the outset and I will need to take that away."
In April, it emerged the cycle pathways body Sustrans, which is 79% taxpayer-funded, agreed to give the council £200,000 to improve the land, because it is part of a national cycle network and had been damaged by a storm.
There is a retaining wall on the land and it emerged the wall could belong to Mr Young.
This meant that, to guard against any suggestion of a conflict of interest, the funding award should have been referred to a council committee.
A council report into the matter found funding had been arranged "solely through e-mail", largely due to the "urgency" of the situation, but committee approval should have been sought to allow scrutiny by councillors.
The report added that "with hindsight" officers should have sought advice from legal colleagues "as soon as they believed" Mr Young to be the landowner in order to obtain a legal opinion.
A version of the report investigating the sequence of events was published last Wednesday ahead of yesterday's meeting of the audit, risk and scrutiny committee at the Town House.
The Evening Express had reported that some councillors said the report raised "more questions than answers", and the meeting started with councillors deciding to publish a new version of the report with more details of the affair.
The report also details the efforts of senior council staff to find out who leaked e-mails that found their way into the press.
IT bosses suspended several e-mail accounts and trawled e-mail histories to try to find the source.
"E-mail trawls were conducted, firstly searching for e-mails discussing Wellington Brae, and secondly mapping e-mail correspondence which originated from, or was sent to (media organisations).
"No evidence was uncovered which allowed the service to identify an individual source of the leaks.
"At interview, Mr Young also denied having released the e-mails to the press.
"The investigation confirmed that Mr Young had forwarded the particular e-mails in question to a local resident who had a number of concerns about the work."
During the meeting, Cllr Douglas Lumsden accused the convener, the SNP's Cllr Stephen Flynn, of trying to "silence" a discussion on possible corruption as he would not allow members to discuss comments made by people not at the meeting unless they were in the report.
Visibly offended by the allegation, Cllr Flynn said: "I am not trying to silence anyone or anything."
Cllr Flynn added that an independent review into the affair may still take place.
The committee voted to ask for the council to return to the issue at a future date with a report on actions taken.
It also voted to send the report that was discussed at the meeting to Audit Scotland for its consideration.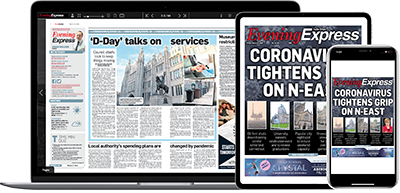 Help support quality local journalism … become a digital subscriber to the Evening Express
For as little as £5.99 a month you can access all of our content, including Premium articles.
Subscribe