A charity volunteer has hit out after being knocked down by a cyclist in Aberdeen
Edith Thomson, 77, of Mid Stocket, was hit by a cyclist at full speed as she came out of Aberdeen's Marks & Spencer beside the St Nicholas Centre and struck her head on the pavement.
The part-time shop assistant, who does volunteer work for Guide Dogs, had to spend the night in hospital and was badly bruised and shaken.
She has now called for cyclists to stop riding on the pavements before someone is more seriously hurt or even killed.
Edith stressed inconsiderate cycling is a particular danger for blind people with guide dogs.
Edith said: "I stepped on to the pavement and this bike just crashed right into me. It's so stupid. He just came full force into the back of my leg and knocked me off my feet.
"My head bounced off the concrete as well.
"He did stop and say sorry but it was too late. With the knock on the head I could hear my skull cracking across the pavement."
Edith was also concerned that one of the guide dogs, which cost £39,700 to train and care for, could have been struck and injured or killed.
Edith suffered bad bruising to her leg and both arms, as well as a serious bang to the head and was kept in hospital overnight.
A Police Scotland spokeswoman said inquiries were ongoing into the incident which happened at around 2.45pm on Saturday.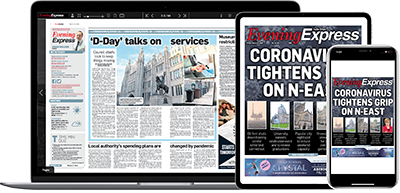 Help support quality local journalism … become a digital subscriber to the Evening Express
For as little as £5.99 a month you can access all of our content, including Premium articles.
Subscribe