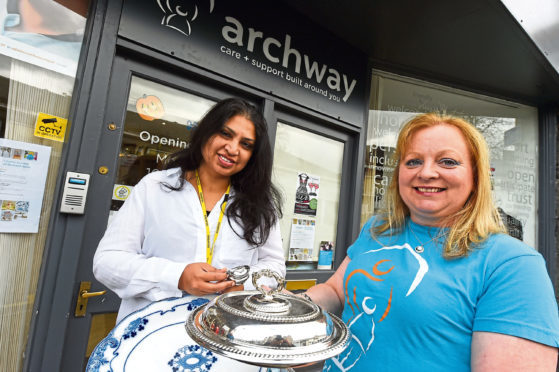 An Aberdeen charity shop is hoping to raise thousands of pounds by putting more interesting donated items under the hammer.
Archway, which offers respite care to more than 200 children and adults with learning difficulties across the region, is hoping to rake in as much as £4,000 for one painting.
Around 100 items – estimated to make a minimum of £10,770 – from the charity shop on Rosemount Place are set to go under the hammer at Taylor's auctioneers in Montrose on Saturday.
A wide range of furniture, crockery and paintings is due to go on sale.
Archway's fundraising manager Janine Davies said: "Some lovely items and a large number of paintings were very kindly donated to us when we were in the process of opening the shop.
"We thought we had better get some advice to identify and value them before putting them up for sale.
"An Archway parent works at Aberdeen University and suggested contacting them.
"We spoke to John Morrison, Professor of art history at the university, and senior lecturer John Gash about the paintings and they helped us identify some of the artists and gave us some more information which was really interesting.
"Ian Taylor, from Taylor's Auction Rooms in Montrose, kindly came and appraised all the items.
"We felt sure we would raise more money for these items at auction and, as we are a charity, Taylor's agreed to sell everything for us free of charge to help us raise as much as possible."
One painting is valued at between £2,000 and £4,000.
The 17th-Century work depicts an Italian man praying.
Another 18th-Century painting, of Dutch fishing boats battling against the waves, is hoped to fetch as much as £3,000 in Saturday's sale.
Also among the items is a 16th-Century document, hand-written on parchment.
The paper is signed by someone named Margaret Lindsay and dated 1591. The piece is valued between £40 and £60.
Janine said: "We have almost 100 lots going under the hammer on Saturday.
"Ian, Geoff and Jonathon Taylor from Taylor's Auction Rooms have been doing their utmost to help us.
"There has already been interest in some of the lots.
"We are delighted that we are raising as much as possible for the items and that the proceeds will also be used in an amazing way.
"We have just launched a new Appeal – Archway@St Margaret's Place."
She continued: "All the money raised will help us develop a new supported living service which will enable adults with learning disabilities to live as independently as possible with the support they need.
"We are just delighted."
The sale is due to take place in saleroom three at Taylor's, on Brent Avenue, Montrose, at 10am on Saturday.
Prospective buyers are also able to view the lots at the Auction House tomorrow between 10am and 6pm.