An Aberdeen charity has launched a campaign aimed at spreading the word about the healing power of talking.
Mental Health Aberdeen's Time to Talk initiative gives the public a chance to sponsor minutes of counselling time by making a donation.
The launch coincides with World Mental Health Awareness Day, which is today.
The charity believes the campaign could be among the first of its kind.
For every £10 donated, 15 minutes of counselling time will be provided by one of the charity's trained counsellors. A £40 donation will fund a one-hour counselling session.
The charity, which has close to 40 staff and more than 80 volunteers, has offered free counselling and information services to people in Aberdeen and Aberdeenshire for nearly 70 years.
Astrid Whyte, CEO of MHA, said: "While it is extremely positive that mental health is now being discussed regularly in the wider media, there is still a great deal of work to be done to ensure people feel comfortable talking about their mental health and are able to ask for support."
The charity, based in Aberdeen city centre, offers support services, counselling and advice to adults, young people and children.
---
---
Ms Whyte said: "In 2017, our team spent the equivalent of 3,000 working days counselling those in need, yet we still had a waiting list.
"While we continuously run our own in-house counsellor training sessions for volunteers, the number of people contacting us continues to grow, and we want to ensure that every person who calls us receives support."
According to MHA's 2017 annual report, more than 5,000 adult appointments were held and the team took more than 7,000 phone calls.
There were more than 5,000 appointments made for young people – an increase of 42.7% from the previous year.
NHS Grampian's public mental health lead, Dr Imran Arain, explained that although a lot of work has been done, the mental health stigma still exists.
He said: "We have come a long way but there is still work to be done.
"We are trying to help people identify the stressors in their life so they can recognise when they are starting to affect their life.
"I would encourage people who are feeling low to reach out to a close friend, eat healthily, exercise regularly and, if the symptoms persist, to contact your GP."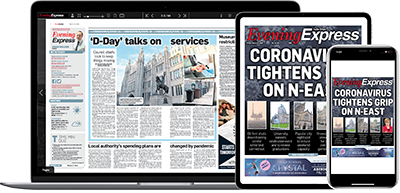 Help support quality local journalism … become a digital subscriber to the Evening Express
For as little as £5.99 a month you can access all of our content, including Premium articles.
Subscribe