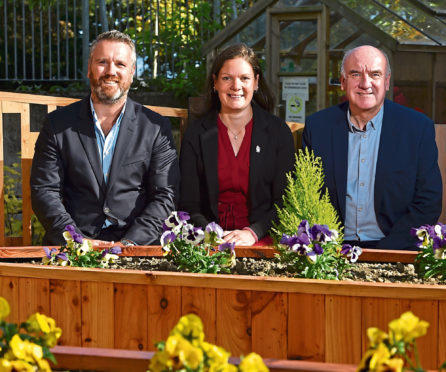 A north-east cancer support charity has opened a new sensory garden at its city base.
CLAN Cancer Support has redeveloped the garden at its CLAN House wellbeing and support centre on Westburn Road.
The rejuvenated garden is for those visiting the centre, as well as those staying in CLAN Haven while attending Aberdeen hospitals for treatment.
Transformation of the garden was made possible due to support from Aberdeen Standard Investments Charitable Foundation and TechnipFMC.
And the area has been named in memory of an Aberdeen Standard Investments employee Suzanne McKechnie Skinner, who passed away in 2015.
The garden, which has two distinct areas, features a large variety of flowers and plants.
Dr Colette Backwell, chief executive of CLAN Cancer Support, said: "We're very proud to open our new sensory garden at CLAN House during what is CLAN's 35th anniversary. On behalf of everyone at CLAN I'd like to thank Aberdeen Standard Investments Charitable Foundation and TechnipFMC who have been very generous in their support of the project.
"Thanks to the dedication of CLAN's skilled garden volunteers, the garden had become a relaxing oasis in the heart of Aberdeen and home to a wide range of flowers and plants.
"We were delighted when the garden won its category in the Aberdeen in Bloom awards in 2017 and 2018."
Claire Drummond, head of charitable giving for Aberdeen Standard Investments Charitable Foundation, said: "Colleagues and friends of Suzanne have seen this project take root through volunteering their services and helping plant the garden area over the summer months."
Along with sensory planting, the garden now features raised beds and improved paving to ensure the garden is accessible to everyone visiting the centre.
The grass area will also provide opportunities for pursuits such as drawing and painting, physical activities such as gardening and activities for children affected by a cancer diagnosis.
Bill Morrice, managing director of TechnipFMC UK, said: "We are proud to support CLAN Cancer Support in the creation of their new sensory garden.
"The space will provide a wonderful area for clients and families to relax and enjoy the outdoors, whilst also participating in the various activities on offer."