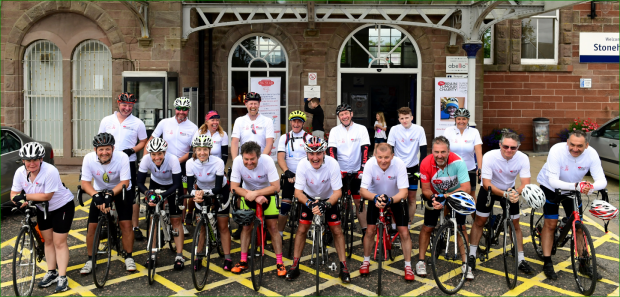 Adventurous cyclists are midway through an ambitious challenge in memory of a brave five-year-old boy.
Stonehaven youngster Sam Dorrance passed away last July after battling a brain tumour for 11 months.
His uncle Colin Dorrance has talked 15 others into cycling 468 miles from Carlisle to Stonehaven and back to raise £40,000 for the Brain Tumour Charity and the team were halfway their journey last night.
After setting off from Carlisle Railway Station on Thursday morning, the intrepid cyclists stayed overnight near Dunfermline before setting out again bright and early yesterday.
They passed over the Tay Bridge and journeyed through Dundee and Montrose before reaching Stonehaven in the early evening.
Their staging post for the night was Stonehaven Railway Station, which has a special meaning for the Dorrance family.
Colin said: "Sam loved trains and he was always getting taken up to Stonehaven's train station to see them go past." It is the second year the Cycle for Sam challenge has taken place. Colin added: "Last year's challenge was a way of focusing on something else for Sam's parents, Graeme and Tanya, and the family.
"I'm a 46 year-old slightly overweight man taking my health for granted and here was this five-year-old who had no choice in what happened to him.
"We had 15 people taking part last year and it was a great success. "We decided to bring it back this year."
This year's team got a moral boost as they left Carnoustie Golf Club yesterday afternoon, when a bagpiper who happened to be there for a wedding played for them as they resumed their journey after lunch.
And there was a special moment planned as the group arrived in Stonehaven, where they took time to remember Sam by his bright-red memorial bench at the station, pictured.
The hard work continues today for the team when they cycle to Kincardine before the big finish on Sunday – the last leg back to where it all began in Carlisle. For more information on the challenge visit tinyurl.com/samcycle