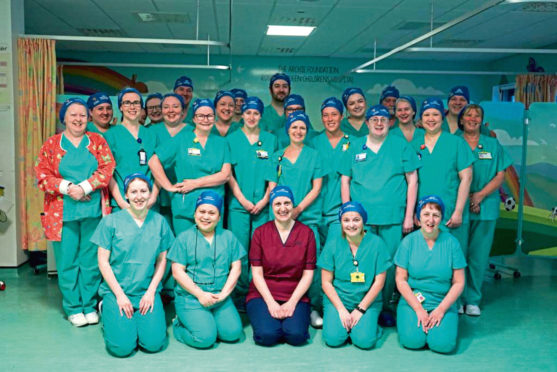 A north-east children's charity has funded a new scheme to provide personalised theatre caps for hospital staff.
The ARCHIE Foundation, set up to provide funding and equipment to improve children's health, is giving the caps, which have individually embroidered names on each one, to be distributed to theatre staff at Royal Aberdeen Children's Hospital (RACH).
The caps allow patients and parents and carers to know exactly who is involved in treating them or their children, from the orderlies to the recovery nurses.
ARCHIE fundraisers and NHS staff said the caps will also help staff as they will avoid confusion and improve teamwork in the operating theatre.
Clinical nurse manager Julie Mulliner said: "This is a safety initiative which will improve things for both patients and staff.
"When we're in theatre we have a multi-disciplinary team, and in situations such as emergencies, there is a chance not everyone in the theatre will know who everyone is.
"There was a situation in Australia where a doctor asked a medical student for advice in theatre because they weren't able to tell who they were.
"This scheme will help staff know who is the right person to ask for advice in that situation.
"It helps people identify who is who quickly and that will in turn improve safety."
As well as making difficult situations easier and safer for hospital staff, Julie believes the initiative will also have a positive impact on patients and their families.
She said: "In terms of our patients, we are doing it in obstetrics and in children's wards.
"It means the patient knows exactly who is around them all the time.
"When people come into the hospital, they are often faced with a lot of different people in a lot of different uniforms and these caps will help them know who is who. It helps them identify quite clearly who they are speaking to at a particular time."
Julie said the personalised caps have already received a positive response from staff as well as patients and their families.
---
---
She said: "The anaesthetists and surgeons we have spoken to have already said they really like the idea.
"There are so many benefits to the new caps. Hopefully they will become more widespread throughout the NHS."
The ARCHIE Foundation's communications officer Megan Masson said: "We are incredibly lucky to have the NHS, filled with everyday heroes continuously working to develop and improve our healthcare.
"The caps will be a welcome addition to our amazing theatre team at RACH and will make the difference to children that visit the hospital."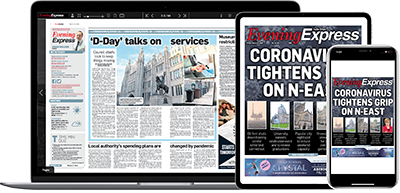 Help support quality local journalism … become a digital subscriber to the Evening Express
For as little as £5.99 a month you can access all of our content, including Premium articles.
Subscribe