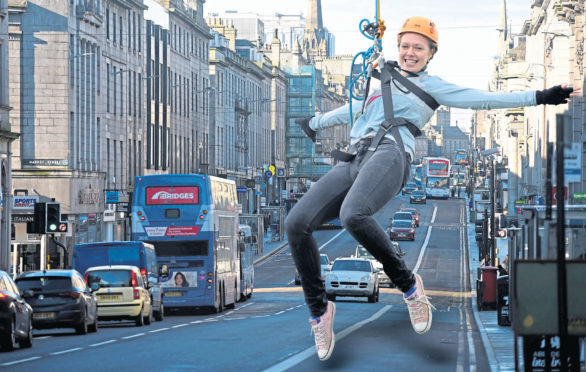 Thrillseekers will get the unique opportunity to take a zip-wire journey down part of Aberdeen's Union Street at an event this month.
Skyfall, the first mobile zip-wire ride of its kind in the UK, will come to the city as part of In Town Without My Car Day.
Visitors can also look forward to a bungee run, a giant boot camp course and a helter skelter.
The event – which takes place from 10am until 4.30pm on Sunday September 16 – will see Union Street closed between the Bridge Street and Market Street junctions.
The day will also feature Aberdeen's own version of carpool karaoke as well as the chance to win a £250 bike store voucher.
The zip wire ride, which will be at least 140 feet long, will be set up on Union Street with a maximum speed of 21mph and is suitable for those aged four to adult.
In the boot camp challenge, contestants will negotiate their way through 26 metres of cushioned obstacles, from squeezers to a tyre gauntlet challenge, swinging across an inflatable ravine, through the tunnels, up the steps and down the slide to the finish line.
On the bungee run, two players will go head to head to see who can get their baton the furthest along the centre wall whilst fastened to bungee cords.
This year's theme is "multimodality" and is encouraging everyone to explore the options available for getting from A to B, and to think about the mode that best suits each journey.
The Lord Provost of Aberdeen Barney Crockett said: "In Town Without My Car day is always a fantastic event and this year promises to be bigger and better than ever.
"The public provide great support and really get behind the day and everyone is welcome.
"There's a serious message behind the fun around the importance of sustainable transport and it's a great way of promoting our aims, working with partners who share the Council's ambitions."
The event is one of several planned across the year to help people find out more about public transport, responsible car use, cycling and walking alternatives to using a car and to demonstrate to people how space can be used differently.
In Town Without Your Car Day and European Mobility week are supported by the GetAbout partnership which includes Aberdeen City Council and Aberdeenshire Council as well as NESTRANS, NHS, Energy Saving Trust, RGU, University of Aberdeen and NESCOL and aims to promote sustainable transport in the north-east.
The event is free to attend and further information can be found at here
For more information about European Mobility Week visit www.getabout.org.uk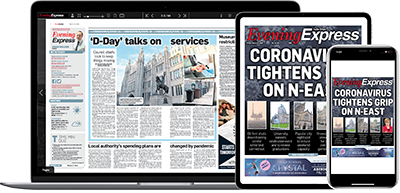 Help support quality local journalism … become a digital subscriber to the Evening Express
For as little as £5.99 a month you can access all of our content, including Premium articles.
Subscribe