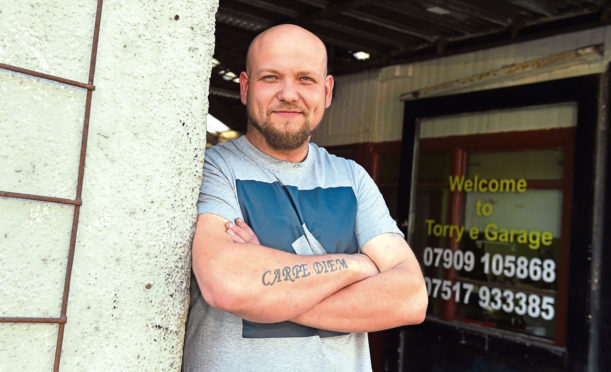 A car crash victim today thanked the man who saved her life by pulling her from the burning wreckage of her vehicle.
Becky MacCaskill was driving her red Seat Ibiza on the A96 at Tyrebagger when the car left the road and flipped over, landing on its side.
It burst into flames and the 29-year-old was trapped in the blaze as she suffered a badly broken wrist and could not get out.
Seconds later, hero Rafal Rozynski came to Becky's rescue, pulling her out of the car and carrying her to his own vehicle. Rafal, 33, who runs Shand Motors in Torry, knew Becky's car could explode, so he put her in his own vehicle and drove 200 yards from the blaze.
Paramedics and police arrived and took Becky to Aberdeen Royal Infirmary.
Despite the severity of the crash, she escaped with only a broken wrist and she went home the next day. A month after the incident, Becky wanted to track down Rafal, but could only remember his distinctive "carpe diem" tattoo.
Her friend Matthew Morrison put an appeal for information on social media about the man who saved Becky's life and Rafal came forward. He told the Evening Express: "I was overwhelmed that Becky wanted to get in touch. It's a really nice thought. I just did what anybody would do.
"You see someone in need and try to help."
Becky, a final-year mental health nursing student at Robert Gordon University, said: "I want to say 'thank you very much' to Rafal for saving me. He got me out and then got me away to safety.
"All I remembered in the daze was his tattoo."
Becky is recovering at her parents' home in Inverness, and has been given extra time to hand in assignments.
She said: "The crash happened so quickly. One minute I was driving along and the next the car was flipping over."
She added: "I landed awkwardly and knew I had to get out as I saw the fire, but my arm hurt too much for me to move. That's when Rafal came and pulled me out.
"It doesn't bear thinking about what could have happened had he not been there.
"The doctors couldn't believe how slight my injuries were."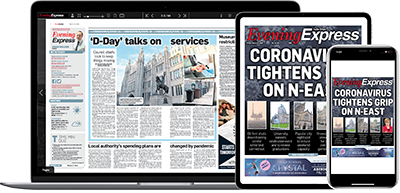 Help support quality local journalism … become a digital subscriber to the Evening Express
For as little as £5.99 a month you can access all of our content, including Premium articles.
Subscribe