A rabbit – which looks to be someone's pet – has been rescued by north-east mechanics.
Staff at Newburgh Motors found the bunny tucked away under the bonnet of a Vauxhall Corsa.
And now mechanic Dave Gordon has temporarily adopted the rabbit who is currently sat happily "eating carrots and lettuce with some water".
Dave said: "The car was brought in for its MOT and I pulled it up onto the ramp.
"I started to check it over when I spotted a white shape tucked away behind the radiator grill and licence plate.
"At first I thought the owner had hit a rabbit.
"I got my torch out and noticed it was still breathing, so I took the front bumper apart to get it out.
"It seems ok, it must have just climbed in because its cosy.
"The rabbit is now sat in a cage eating carrots and lettuce with some water."
The garage are hoping to reunite the pet with its owners, and have put out an appeal on Facebook.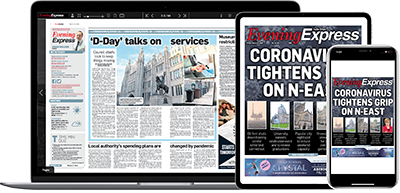 Help support quality local journalism … become a digital subscriber to the Evening Express
For as little as £5.99 a month you can access all of our content, including Premium articles.
Subscribe