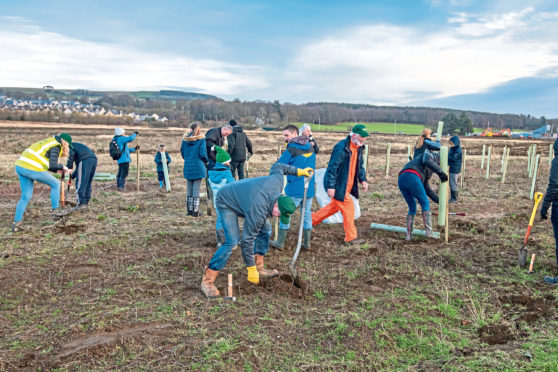 An ambitious community project is on the lookout for funding to install a playpark in a north-east town.
Trustees behind the Ury Riverside Park project have appealed to residents in Inverurie to help with its latest initiative.
The long-term project is aimed at developing council-owned land between the Inverurie Retail Park and Osprey Village.
It is hoped the floodplain can be turned into a park which can be used by the whole community.
When completed, the trustees would apply for a long lease on the ground through an asset transfer with the local authority.
George Petrie, a trustee with the seven-strong group, told the Evening Express the charity believes it would need to raise between £60,000 and £80,000 for the playpark.
Volunteers were also on hand on Saturday to plant trees at the site.
George said: "One of the biggest parts of the project we have at the moment is looking to fund a new playpark.
"All these new houses were built and there is no play area for the children so we wanted to raise funds.
"It would be beside the shops in a drier area of the floodplain.
"We want to be able to see kids up there playing with swings and kicking a ball about.
"At the moment we believe we would need between £60,000 and £80,000 for the playpark equipment."
According to George the group want to see the 220-acre site transformed for future use.
George added: "Our project has been on the go since around 2007.
"A path network has been set up and completed with funding from Aberdeenshire Council.
"Our end goal would be to get a community asset transfer.
"We want to see a community park run and owned by the community.
"We would want to see it being as accessible to as many people as possible.
"The trustees are in talks with fishermen so we can get accessible fishing for all.
"For example, if someone is in a wheelchair they would still be able to fish in the Ury.
"The trustees also want to enhance the wildlife at the site and help the environmental impact."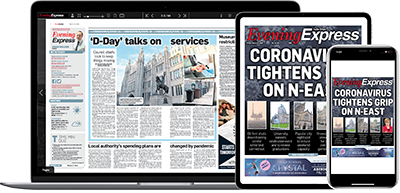 Help support quality local journalism … become a digital subscriber to the Evening Express
For as little as £5.99 a month you can access all of our content, including Premium articles.
Subscribe