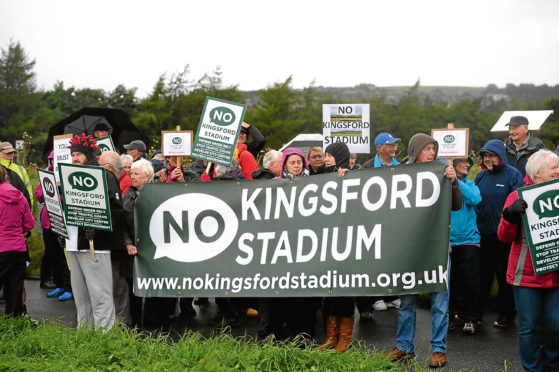 Campaigners fighting the Dons' bid to build a new stadium have defended their right to a legal challenge.
As reported yesterday Aberdeen City Council has now granted official planning permission for Aberdeen FC's £50million stadium and training ground complex at Kingsford.
No To Kingsford Stadium (NKS), which opposes the stadium as it is on greenbelt land, now has 90 days to petition for a judicial review.
It has so far raised £60,000 of its £70,000 target to fund a review, but Dons chairman Stewart Milne said objectors are funding a "pointless exercise".
NKS formed NKS Ltd last June so no individual would be laden with debt from lost legal proceedings and doubts have been raised about whether the company could pay up to £80,000 to the council if the review fails.
The taxpayer would otherwise foot the bill.
An NKS spokeswoman said it could not guarantee NKS Ltd would pay such costs.
The company would no longer be liable if it were to dissolve.
"There are legal options available to the company which protect it from excessive expenses," said the spokeswoman.
She added: "It is important local authorities are held to account for the decisions they make.
"We are exercising our democratic right to petition to review this decision.
"The company was set up to take forward this challenge.
"The council chose to approve this application. It will be the council that will need to account to taxpayers for their decisions."
Stewart Milne welcomes formal permission to build Dons £50m Kingsford stadium
Mr Milne said: "It's only right and fair those donating or making pledges to their cause are fully aware their money cannot prevent the project proceeding and will simply fund a pointless exercise that will drain council resources and potentially damage the region's reputation as a place in which to invest."
The NKS spokeswoman added: "We continue to be advised by our legal team, who believe we have a real prospect of success.
"A review is the only avenue available to us to defend our community from this development.
"Mr Milne is incorrect and it is highly likely our petition for review will be accepted by the Court of Session.
"We can change the outcome and this has been done before by other groups defending their communities.
"The community will not be bullied by statements from individuals who do not have to live with the consequences of the developments they force on communities.
"A significant number do not want a football stadium and all that goes with it, in a location seven miles from the city centre."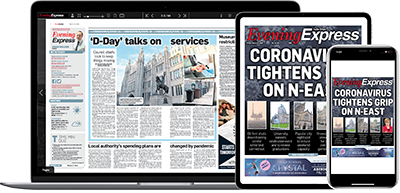 Help support quality local journalism … become a digital subscriber to the Evening Express
For as little as £5.99 a month you can access all of our content, including Premium articles.
Subscribe