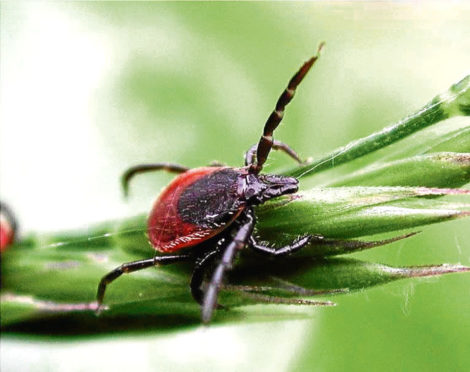 Police officers in the North-east are among the highest at risk from tick bites, it has been revealed.
Police Scotland has launched a campaign for officers to make sure they are protected against the chance of being bitten by a tick.
The bites are generally painless, however, can carry diseases which can be transmitted to humans – including Lyme Disease.
They can also cause chronic fatigue, palsy, depression, paralysis and heart problems.
Information circulated to officers in a poster said: "The number of ticks carrying Lyme Disease is growing and they are spreading throughout Scotland.
"Higher risk areas are Tayside, Grampian and Highland but all areas are affected.
"Regularly inspect exposed skin, particularly around arms and midriff."
It also advises using a repellent such as Permethrin spray.
The guidance gave advice on how to remove ticks and what symptoms to look out for in the case an officer is bitten.
It said: "Use a tick removal tool. If a tool is not available they can be removed by hand but you must twist the tick to remove the head.
"Do not leave the head in, seek medical advice if it cannot be removed.
"Ticks must be removed within 24 hours to reduce potential infection."
With early diagnosis a key factor in preventing the spread of disease, guidance was given for what to look for.
Police Scotland advises that if officers are suffering from any flu-like symptoms, including joint pains, fever and headaches, to visit their GP and complete a course of antibiotics if prescribed.
A police spokesman said: "Police Scotland takes officer and staff safety very seriously, and issues advice and guidance as and when appropriate.
"We have permithrin spray available for officers to use if required and if they require a removal tool we can make this available for them.
"The poster is part of an awareness campaign."