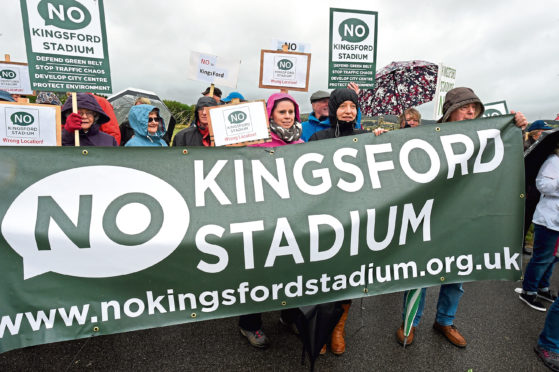 A group opposing Aberdeen FC's new stadium has been forced to fold earlier than expected due to threats made against its leaders.
No Kingsford Stadium (NKS) brought an unsuccessful judicial review against the 20,000-capacity stadium and training ground complex at Kingsford.
The group, which then spawned West Aberdeen Environmental Protection Association Limited (WAEPAL) to campaign against other projects it deems harmful to the area, said the move comes after "months of relentless abuse".
It is understood some of the threats made reference where individuals live and include foul-mouth tirades.
Bosses of the Kingsford project called the behaviour "totally unacceptable". The campaigners are so worried for their safety they have reported the issues to the police.
An NKS spokeswoman said: "We had announced a few months ago we intended to move our activities to WAEPAL.
"We had been planning to do this over a period of time, however, following months of relentless abuse via email and social media and, on Tuesday, further threats to the safety of those involved in the group, we have decided to accelerate our plan to move to WAEPAL.
"On Tuesday, our directors again spent time with Police Scotland – dealing with further threats to their safety.
"The abuse and intimidation against these three directors over a planning application/difference of opinion is frankly difficult to understand.
"Each of them has done an amazing job and they took a stand both for the community and for what they personally believe in.
"We remain committed, as WAEPAL, to ensuring the full and strict enforcement of the conditions for phase two of the stadium development."
NKS said it would close its Facebook page and limit access to the WAEPAL page in an attempt to ward off further abuse.
Kingsford Stadium project director Raymond Edgar said: "This type of behaviour is totally unacceptable, there is no need for it and we sincerely hope no fan of the club is involved. We continue to engage with members of the local community and genuinely want to be a good neighbour."
---
---
In April last year, the Evening Express revealed how NKS had created a fake Facebook profile to make comments about the development.
NKS said it decided to use a pseudonym due to the level of abuse directed at its representatives when they made comments under their own names.
Exclusive: Kingsford Stadium objectors created fake spokesman and Facebook page
Inspector Darren Bruce of the Garioch Community Policing Team said: "Officers have been investigating reports of alleged abusive language directed towards a number of people representing various bodies or organisations with an interest in the new stadium.
"On this occasion no further action will be taken however let me be clear that where abusive language is of a threatening nature and when a crime has been committed, we will deal with those individuals robustly."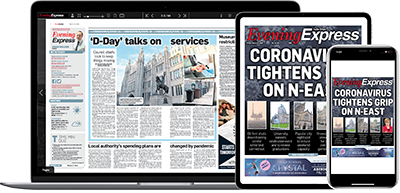 Help support quality local journalism … become a digital subscriber to the Evening Express
For as little as £5.99 a month you can access all of our content, including Premium articles.
Subscribe