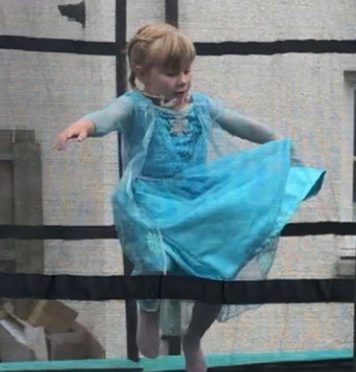 A north-east key worker was left feeling "sick" after brazen thieves used drills to dismantle her daughter's trampoline before driving off with it in a van.
Charlotte Younger was at Aberdeen Children's Hospital when the 12ft toy was stolen from her back garden in Blackdog in broad daylight.
The 26-year-old support worker had painstakingly saved £250 for the trampoline, which was stolen on yesterday morning, for her five-year-old daughter Eloise.
It had proved a massive hit with the Balmedie school pupil even eating her meals out on it.
Charlotte said the first she heard about the theft when her neighbour contacted her via text message asking if she had sold the trampoline.
She said they managed to catch the first few letters of the van's registration plate and
Charlotte said: "I was sat at work and my neighbour messaged me to say 'are you getting rid of your trampoline already?'
"I replied saying it was still there and she was like 'two people, a man and a lady, have come and taken it in black boxer van and driven it away.'
"She said they had drills and she presumed I had just sold it.  They came at 10am and park right outside my house so it wasn't even like it was subtle.
"The neighbours got the start of the registration plate of the van but it took off pretty quickly.
"It isn't a little trampoline it is 12ft and is absolutely massive. That is why I am so shocked and I have I had it two weeks."
Charlotte said she is yet to tell her daughter and is struggling with what she can tell her about the theft.
She is worried Eloise will be scared because someone her entered their back garden and taken the trampoline.
Charlotte said: "She is never off it.  She has been eating her dinner on it and she has wanted to have sleep overs on it.  She has even being using underneath as a den.
"I've not told her yet and I feel sick to my stomach with what I am going to say to her.
"I don't want to say someone came and stole because I don't want to scare her.  I've contacted the police and they are going to investigate it.
"It take me ages to save up for that trampoline."
In response to the theft an online crowdfunding page was set up to raise cash so another trampoline could be bought for Eloise.
With a matter of hours the target of £250 was met and the total is currently sitting at £305.
Caroline Cuthill, 54, from Blackdog decided to launch the fundraiser in a bid to help her young neighbour.
She enlisted the services of her daughter Danielle and just hours after the brazen theft the appeal for help went viral.
Caroline's husband also installed a new lock on Charlotte's gate so there would not be any repeat of yesterday's incident.
She said the success of the Just Giving appeal shows community spirit is alive and well and it "heart-warming" that people have come to her aid.
Caroline said: "The neighbours were asking if there was anything we could do to help Charlotte and I thought about the crowdfunding page.
"My daughter set that up and someone in the village donated £150 so they now have most of the money to get a new trampoline.
"The heart warming part is that now we know this village has rallied round and the guy who sent the money did not even put his name on the crowdfunding page.
"I just wanted to do something to ease the pain of this. It is amazing that within two hours the money was raised and that people thought of this little girl at this time.
"Charlotte is just a young lassie and she has never had anything like this happen to her before."
A police spokeswoman said they were investigating the incident.
She said: "Anyone who may have information about this is asked to contact Police Scotland on 101, quoting incident 1116 of July 30."
The incident in Blackdog follows reports of a children's swing set being taken by two people in a van in Balmedie on Wednesday.
The vehicle involved is said to be white van with green star sign on the back door.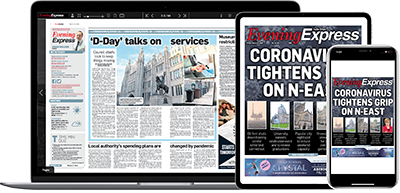 Help support quality local journalism … become a digital subscriber to the Evening Express
For as little as £5.99 a month you can access all of our content, including Premium articles.
Subscribe