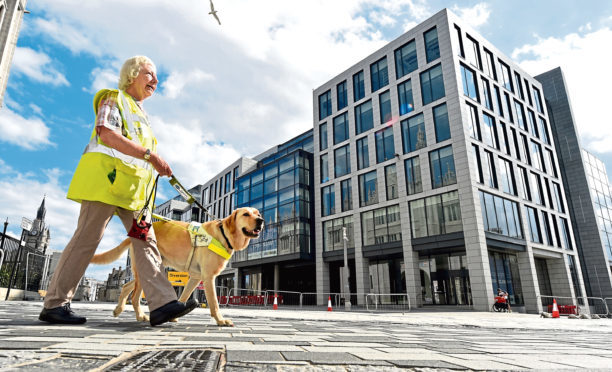 A "pedestrian priority" zone in Aberdeen city centre has raised concerns among the blind community about the need for a safe crossing to be created.
Work on the £3.2 million Broad Street project is finally due to finish on August 1 after several delays.
The pedestrian priority zone will be open to buses, bicycles and pedestrians. The road and pavement will be built at the same level in a bid to provide a safer and more attractive street environment.
However, Mary Rasmussen, chairwoman of Guide Dogs Aberdeen, visited the Upperkirkgate junction and Broad Street for a "walkabout" last week with members of the council and the Disability Equity Partnerships (DEP).
She said: "With several cars speeding on the roundabout and Broad Street not yet fully open, it was impossible for me and my guide dog Vince to get safely across the road.
"In pedestrian priority zones, the cars are meant to stop for pedestrians, and the council members did say they would educate drivers to do this.
"But when two sighted members of the group tried walking slowly across the junction waving arms at drivers, they did not slow down and showed no desire to give way to pedestrians.
"Marischal College is the seat of our local government and blind and partially sighted people shouldn't be put off going there out of fear."
Mrs Rasmussen is now calling for a controlled crossing to be put in place at the Upperkirkgate, allowing for easy access to Broad Street.
She will also return to the area for another walkabout, when the Broad Street development officially opens on August 1.
Liberal Democrat councillor Steve Delaney said: "This walkabout once again goes to show the inherent dangers posed to people with sight, hearing and mobility impairment as they try to access Marischal College and Marischal Square.
"I remain very worried indeed that the public are being put at danger.
"It's not just the use of buses in Broad Street.
"I also have concerns about the lack of a pedestrian crossing on Upperkirkgate, which is open to all forms of transport.
"All it needs to make this safe is a signalised crossing point, but that has been omitted in the interests of aesthetic appearance."