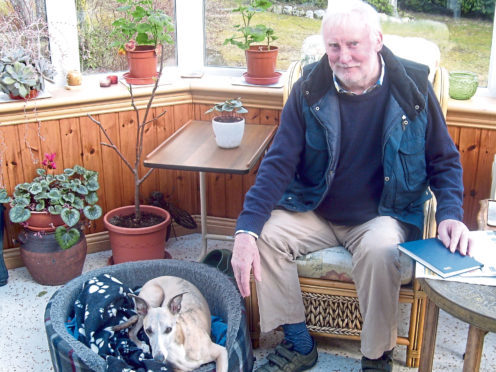 A north-east stroke victim has backed a charity's call for the Scottish Government to do more to help survivors.
Stroke Association in Scotland is calling on the Scottish Government to take action about the lack of information relating to the availability and use of stroke rehabilitation services in hospitals and the community.
The charity said without these details it would not know what support stroke survivors are receiving, especially after discharge from hospital.
Among those keen to see more facts available about stroke rehabilitation is Eric Sinclair, from Aboyne, who suffered a stroke in 2005 and is now a volunteer for Stroke Association.
The 69-year-old said: "Most people who survive a stroke will leave hospital and find out quickly that there is limited information to where they can go.
"I left the hospital in a wheelchair and I am now walking around thanks to private physiotherapy.
"What I would like to see is some kind of measure of the extent to which we are providing rehabilitation. If I were in Ireland this information would be available to me, but it's not in Scotland.
"I would like to see this support provided to those who could benefit from rehabilitation. This measures the quality of care so services that already exist could know if more is needed for those who most need it."
Andrea Cail, Scotland director of the Stroke Association, said: "It is still the case that not everyone gets the help and support they need and much more still needs to be done.
"We don't have the data and information to demonstrate what rehabilitation services are available and where, and who is accessing it and for how long. We need this information to understand where the gaps are and drive forward the necessary improvements. That's why we are calling on the Scottish Government to routinely collect and publish details of the rehabilitation stroke survivors in Scotland receive."
A Scottish Government spokesman said it was committed to ensuring stroke survivors have access to "the best possible care as quickly as possible".
He added: "Deaths from stroke have fallen 38% between 2006 and 2015. These figures show our strategy for stroke is delivering real improvements – but we want to go further. The Scottish Government's stroke improvement plan affirms stroke as a clinical priority for NHS Scotland.
"We are working closely with clinicians, third-sector partners and those who have had a stroke to support improving outcomes and are committed to ensuring that people who have had a stroke have access to the best care as quickly as possible."
A spokeswoman for NHS Grampian said: "Inpatient stroke and community rehabilitation services are available across Grampian but the amount of input can vary due to individual patient needs and service pressures.
"A range of community groups and online options are also available."