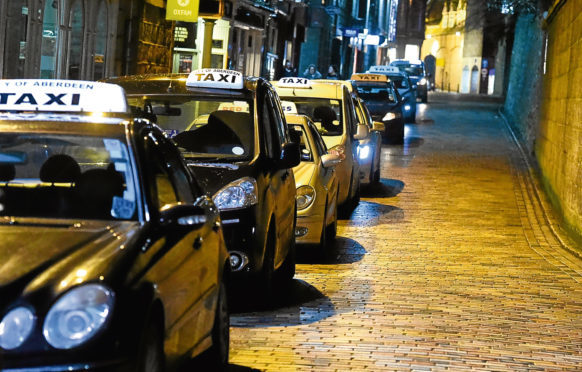 A union chief has called for all taxi drivers in Aberdeen to be balloted over a potential move to increase fares by 5%.
One of the two proposals under consideration is increasing the basic tariff from £2.40 up to £2.52 for the first 950 yards, with every additional 180.5 yards going from 20p to 21p.
The second option is to keep the fares at their current level.
Members of Aberdeen City Council's licensing committee were being asked to agree to put both options out to consultation when they met today.
Tommy Campbell, Unite regional officer, said its members are divided on the issue and has called for the local authority to directly conduct a ballot of all its licensed drivers.
He added: "We're not taking a blanket view as we've heard different feedback.
"The comments we are getting fed back is 'we haven't had an increase in a long time so it's not unreasonable'.
"But a lot of the drivers aren't necessarily in favour of the increase because of their loyalty to the customers as they realise customers are suffering the effects of austerity.
"It would be more democratic to have a consultative ballot on this."
Councillor John Reynolds, convener of the committee, said no decision would be taken until a consultation is carried out.
He said: "My advice for any drivers that are concerned is to partake in the consultation and give us their thoughts.
"The proposals will go out to consultation and we will get the results."
Graeme McColl, chairman of Aberdeen Taxi Group, previously said the trade supports the rise of 5%, adding costs for everything have increased.
The local authority reviews fares every 18 months but has not increased them since 2011.
A report, to be considered by the licensing committee today, said drivers' costs increased by 5.09% between 2016 and 2018 from total estimated costs – including an increase in fuel costs – of £42,991 to £45,123.
If councillors agree to begin a consultation next week, a report will be submitted on the outcome of its findings. A final decision on future fee levels would need to be adopted by the local authority from June 26.