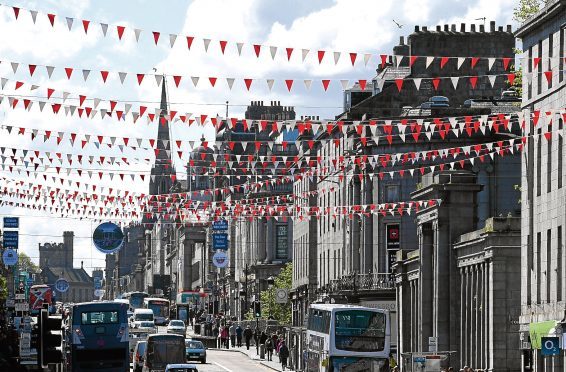 Aberdeen businesses are being encouraged decorate their premises red and white to support the Dons in the upcoming Scottish Cup final.
The call from Aberdeen Inspired came as Union Street was decked out in red and white bunting.
The flags – which were commissioned by the business champion – are also marking an exciting summer of events.
Adrian Watson, chief executive of Aberdeen Inspired, said: "We are delighted to be playing our part in celebrating the many wonderful things going on in our city by commissioning red and white bunting for Union Street.
Watch: Dons fans release Scottish Cup final themed charity single
"It is our way of showing our support for the Dons in the build-up to the Scottish Cup final and fostering a spirit of camaraderie.
"As part of this, we and Aberdeen FC are also encouraging our local businesses to get behind the Dons and decorate their premises in red and white."
Mr Watson added: "The bunting is also to mark a number of high profile events we are thrilled to be welcoming to our city, starting with the wonderful Tour Series next week and of course the first Great Aberdeen Run in August.
It is lovely to see the bunting now in place and we can't wait to see the red and white fever catch on throughout the city centre."
Aberdeen city centre to be transformed into elite cycle course