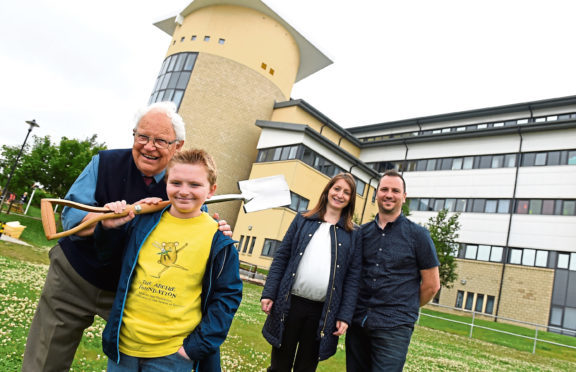 Green-fingered volunteers are ready to roll up their sleeves to spruce up an Aberdeen hospital's garden – but they need some help.
The Archie Foundation charity has gathered a team of 20 helpers from Wood Group to give some tender loving care to the gardens at Royal Aberdeen Children's Hospital on June 15, but they need materials to aid their effort.
They are asking builders' merchants, DIY shops and garden centres to lend a hand by donating stones, paint and plants.
The gardens were opened in 2016 – a year after a turf-cutting ceremony, pictured. It was funded by Wood Group staff.
The area will be given a revamp on June 15 thanks to the Archie Foundation, which raises cash to support the hospital.
"We're really lucky that Wood have so generously donated their staff and their time to us for a day to help tidy up the gardens ready for summer," said the Archie Foundation projects director Ewan Buchan.
He added: "We're looking for other businesses and organisations to help too by donating some of the items on our garden wish list.
"We're looking for round pebbles and coloured stones for the beds, external paint to freshen up the timber frames around the garden, paintbrushes and rollers, ground cover membrane to help keep weeds at bay and new plants."
If you can help email ewen@archie.org