An exhibition showcasing the artistic talents of sick children in Aberdeen has been hailed.
Grampian Hospital Art Trust (GHAT) and Belvidere Gallery teamed up to display the art of the young people, who are patients at Royal Aberdeen Children's Hospital (RACH).
Each painting was created during the hospital's art room sessions – a patient-centred project led by trained artists.
The artwork has been on show at the Belvidere Gallery, in Rosemount, since the beginning of June.
It is the first time the gallery has worked with the hospital trust, having previously engaged with schools and other organisations over the years.
At a special event held on Saturday, their work was celebrated with the children receiving their paintings back framed and a certificate from co-leader of Aberdeen City Council Jenny Laing.
Jo Hastie, artroom co-ordinator at the hospital, said they were delighted with how the project had gone.
She said: "It was a lovely day, it was so great to see the kids looking happy and pleased with themselves and getting their artwork.
"They had a lovely day being spoiled, a lot of them have been through quite a difficult time and it was really nice making a big fuss of them.
"For me it was nice to see our artists rewarded for the work that they do.
"I loved it, even though it can be quite stressful to organise as you do wonder if anything will go wrong but it is worth all the effort."
Jo thanked the staff at the gallery for all their help during the project.
Artroom is designed to give children a respite from medical routines and relax them and boost their self-esteem.
GHAT has been running the project for more than 10 years and is based on a model first introduced at Roxburghe House.
Mrs Laing said: "It was a lovely event and gave the children and their parents the opportunity to come and see all the hard work that has gone into this.
"The Belvidere Gallery should be commended for all the community work it does and has done throughout the years with different schools and the hospital."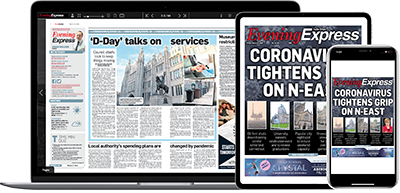 Help support quality local journalism … become a digital subscriber to the Evening Express
For as little as £5.99 a month you can access all of our content, including Premium articles.
Subscribe