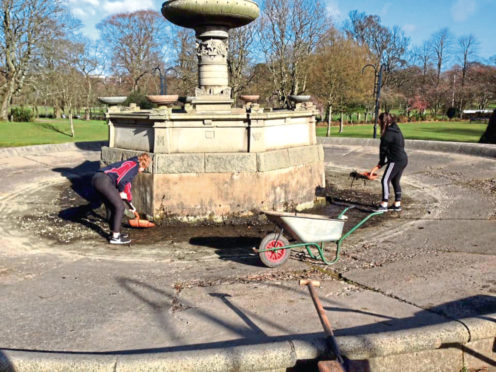 A historic Aberdeen fountain will cost around £150,000 to bring back into use, a park group has said.
The Friends of Victoria and Westburn Park said bringing the fountain in Rosemount's Victoria Park back to life will be the group's next big project, after successfully installing a new skate park in neighbouring Westburn Park.
However, a scoping survey had to be carried out into the site, which has not been in use for a number of years.
The group was previously given £7,000 from Aberdeen's Common Good Fund in order for the inspection to be carried out, to find out what was wrong with the fountain.
Now that the results have come back, it has emerged that it will cost around £150,000 to fix.
Friends of Victoria and Westburn Park chairman Peter Stephen said: "We're now setting up a committee to try and get funding from the Heritage Lottery and Aberdeen City Council as well as other groups.
"It's been a long time in the making and it'll be a long time before it's back up and running.
"The fountain has just fallen into disrepair and it hasn't been used for many years.
"The concrete is in a bad way, and the granite is in a bad way.
"The piping and the electrics will all have to be completely redone.
"The whole infrastructure needs to be changed."
---
---
The fountain is made up of 14 different types of granite which have been taken from quarries, including Kemnay, Peterhead and Rubislaw.
It was originally presented to the citizens of Aberdeen by the Granite Polishers and Master Builders of Aberdeen, but has fallen into disrepair since its hey day.
Professional services will have to be contacted to carry out the work, due to the level of replacement needed.
Peter added: "We were originally quoted for £250,000, but I think we can get that down to £150,000. It's a bit more manageable.
"We're going to try and get a crowdfunder going as well to get support from as many people, charities and companies as possible.
"We're just in the process of filling out applications at the moment, which we might have to spend money on doing so we can get them done properly."
A number of people lent a hand to tidying up the area at the end of last month, and to clear away litter that had accumulated around the fountain.