Work on a £350 million Aberdeen harbour development has seen the completion of the first of 9,000 breakwater protectors.
Aberdeen Harbour Board announced the first interlocking cement blocks, to be used as protection for the north and south breakwaters at the new South Harbour, have now been produced for the new development in the south of the city.
They are designed to resist the action of waves on breakwaters and coastal structures at Bay of Nigg.
The blocks, called accropodes, were completed last week and weigh 40 tonnes each.
They will protect the new South Harbour from a 1-in-200-year storm.
Aberdeen Harbour engineering director Keith Young said: "We are pleased to have started production of our accropodes at our new dedicated facility.
"This represents another significant landmark reached in the South Harbour expansion.
"Our principal contractor, Dragados, has continued construction on the north breakwater, with construction of the south breakwater due to start in June and the accropodes will form a key part of this ongoing work."
The 16m³ accropode is the largest ever to have been produced by an automated factory process.
A temporary facility on the Gregness skyline was specially constructed to make around 9,000 of the cement structures using the latest technology.
The accropode production follows other significant steps at the South Harbour expansion.
Dredging activities have resumed with the arrival of the hydraulic backhoe dredger Goliath – one of the largest of its type in the world.
Meanwhile, the first caisson, one of the concrete "building blocks" which will be used to start the closed-quay sections of the facility, has been constructed.
The caisson, which is 50m long, 17m wide and 16m high, will be floated into position this summer after being transported to Aberdeen from the north of Spain.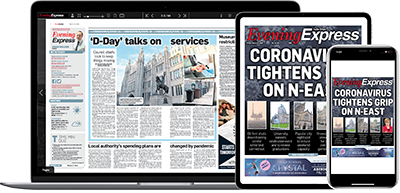 Help support quality local journalism … become a digital subscriber to the Evening Express
For as little as £5.99 a month you can access all of our content, including Premium articles.
Subscribe