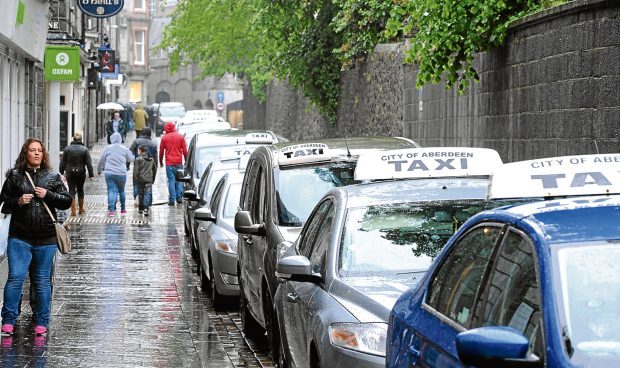 Plans for a controversial new taxi policy in Aberdeen could be abandoned.
Licensing committee members have overruled a recommendation by officers to make all taxis in the city wheelchair accessible by June next year.
A report had asked members to press ahead and introduce the policy by June 6, 2018, but this has been delayed by a year after a debate by councillors.
Officers argued the change is necessary to meet the public sector equality duty demanded by legislation.
The decision had caused anger, with cabbies arguing they would be forced to spend huge amounts of money on upgrading vehicles.
A common argument used against the implementation of a fully accessible fleet is that some elderly or non-wheelchair using disabled people find them difficult to enter and prefer a saloon car for that reason.
Councillors are set to conduct another consultation on delivering a mixed fleet of taxi licensing.
A 100% accessible fleet is in place in Edinburgh and Glasgow due to the traditional use of black cabs, but Dundee operates a mixed fleet like Aberdeen's.
Committee member Stephen Flynn put forward an amendment saying a mixed fleet of taxis would allow people with disabilities the choice for their mode of transport.
He said: "My first point is to instruct the head of legal and democratic services to proceed with a full consultation on the proposals to move from the council's current accessible vehicle policy to a new policy that would deliver a mixed fleet through either taxi licensing or taxi driver's licensing.
"The consultation should involve all taxi and private hire driver licence-holders, the taxi consultation group, the Disability Equity Partnership, Police Scotland, all transport consultants, Unite Aberdeen, and any other relevant charity and organisations and the public.
"It will specifically request views on what would be an appropriate ratio of wheelchair-accessible vehicles to saloon vehicles to ensure a reasonable availability of both to any member of the public.
"I'm asking members to do the right thing.
"Making all vehicles wheelchair accessible takes away the independence and freedom of choice disabled people have."
Vice convener of the committee Marie Boulton had put her own motion forward that would have seen Aberdeen City Council start to implement the wheelchair accessible policy.
She said: "We have legal advice here and a recommendation from officers to move ahead with the policy.
"There is due to be a decision in court regarding Dundee City Council's wheelchair policy and I request that when that decision is made we are told at this committee if there is any implication to this council."
Her motion was defeated five votes to 10 with committee convener John Reynolds abstaining.
Back in June Mr Reynolds had instructed officers to come back to the committee with a further report detailing the legal and financial implications of any changes to the policy.
Currently, 54% of the taxi fleet in Aberdeen is considered to be wheelchair accessible, and in 2012 the committee set out a policy of gradual progression towards a fully accessible taxi fleet.
Pending the result of the consultation the current policy of wheelchair accessible vehicles will be moved to June 6, 2019.
Tommy Campbell, North-east regional representative for the Unite union, spoke to councillors at the meeting.
The union represents many drivers and said the council's approach so far was more than enough.
He said: "There are plenty of provisions for wheelchair-users in the city, which is a testament to the great work of the council.
"There should be a choice available for customers of what type of vehicle they want to use.
"Members we have spoken to are against having a 100% wheelchair policy. While it might help people with one disability it will put others with another disability at a disadvantage."
Mr Campbell had previously spoken on the issue back in June when members of the committee were set to make a decision on the matter, before it was deferred.
He had asked for a common sense approach and said the work done so far by the council was working and there were no calls being made for more wheelchair accessible taxis.
The potential abandonment of the policy in favour of a mixed fleet has been welcomed by Aberdeen Taxi Group spokesman Graeme McColl.
He said: "We are happy the council is not pressing ahead with a 100% wheelchair policy.
"While it has been pushed back for a year and the council is set to do another consultation, the trade will be happy that they will be consulted on this and the potential for a mixed fleet.
"It will be interesting to see how the council is going to be able to divide the ratio of wheelchair accessible vehicles to saloon vehicles as it will be a tricky issue."
Results of a consultation on a mixed fleet are due in 2018.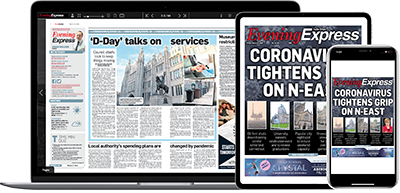 Help support quality local journalism … become a digital subscriber to the Evening Express
For as little as £5.99 a month you can access all of our content, including Premium articles.
Subscribe